Japanese Parliament's Debate Over Pacifism Gets Violent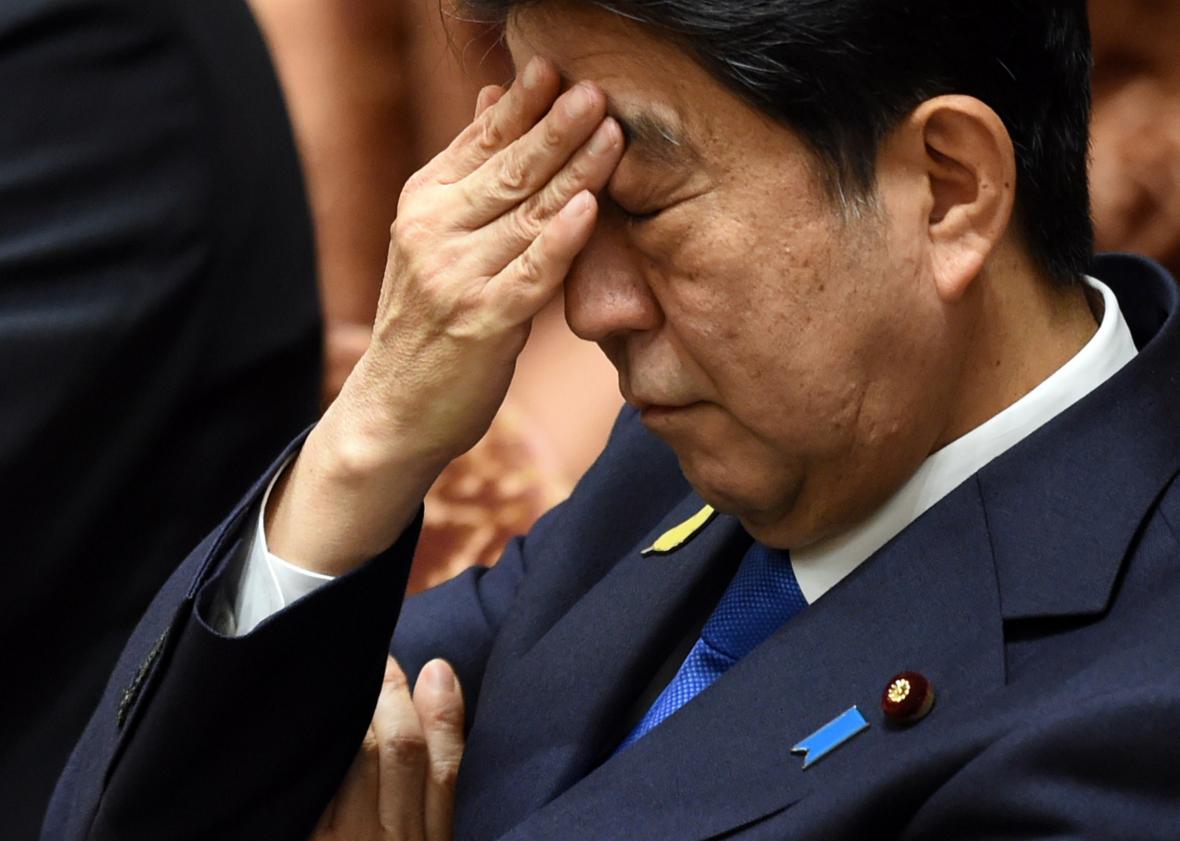 There may be times, as Winston Churchill once put it, when violence can be the "sole guarantee of peace." But I'm not sure the prime minister had in mind ripping away the microphone of a member of parliament to prevent him from calling a vote.
The chaotic scenes in Japan's parliament today were provoked by debate over a package of bills that would allow Japan's military, known as the Self-Defense Forces, to provide logistical support and in some cases armed backup to allied militaries in overseas conflicts. Opponents tried to prevent voting on the bill by taking away the microphone of the committee chairman, who was attempting to call a vote. Pro-government lawmakers then formed a protective phalanx around him, as television cameras rolled. The committee eventually managed to pass the bills, which were sent to the upper house for a final vote. They will almost certainly pass. Abe appeared to be either dozing off or meditiating throughout the whole thing.
Opponents argue the changes violate Japan's post-World War II constitution, in which it vowed to "forever renounce war as a sovereign right of the nation and the threat or use of force as means of settling international disputes." Prime Minister Shinzo Abe's government has reinterpreted that clause as allowing for "collective self-defense," something that seems like an intentionally vague definition, and the new laws would make that interpretation official.
Abe, who has pushed a less apologetic view of Japan's wartime history, has been gradually chipping away at the principle of pacifism with moves such as easing a ban on weapons exports. He has seized on the killing of Japanese hostage Kenji Goto by ISIS in February as evidence of why Japan needs to take a more assertive international role. Opponents say cases like Goto's are evidence of why Japan should stay out of foreign wars and worry about Japan becoming embroiled in a U.S.-led conflict like the war in Iraq. Ironically, given that the U.S. essentially wrote the Japanese constitution, the U.S. has supported Abe's changes, seeing the potential benefits of Japanese military support. Regional rival and wartime adversary China sees things differently.
A majority of the Japanese public opposes the changes, and protests have been widespread and angry. In addition to the chaotic scenes inside the rally, 13 people were arrested at a rally of 13,000 outside. Physical scuffles have broken out in Japan's parliament before, but the body is usually fairly sedate compared to other East Asian democracies, such as South Korea, where brawls can get very ugly, and Taiwan, where the filibuster-by-fisticuffs is practically an accepted debating tactic and can involve up to 50 lawmakers throwing punches at a time.