Trump on Women: "They Are Amazing Executives. They Are Killers. They Are Phenomenal."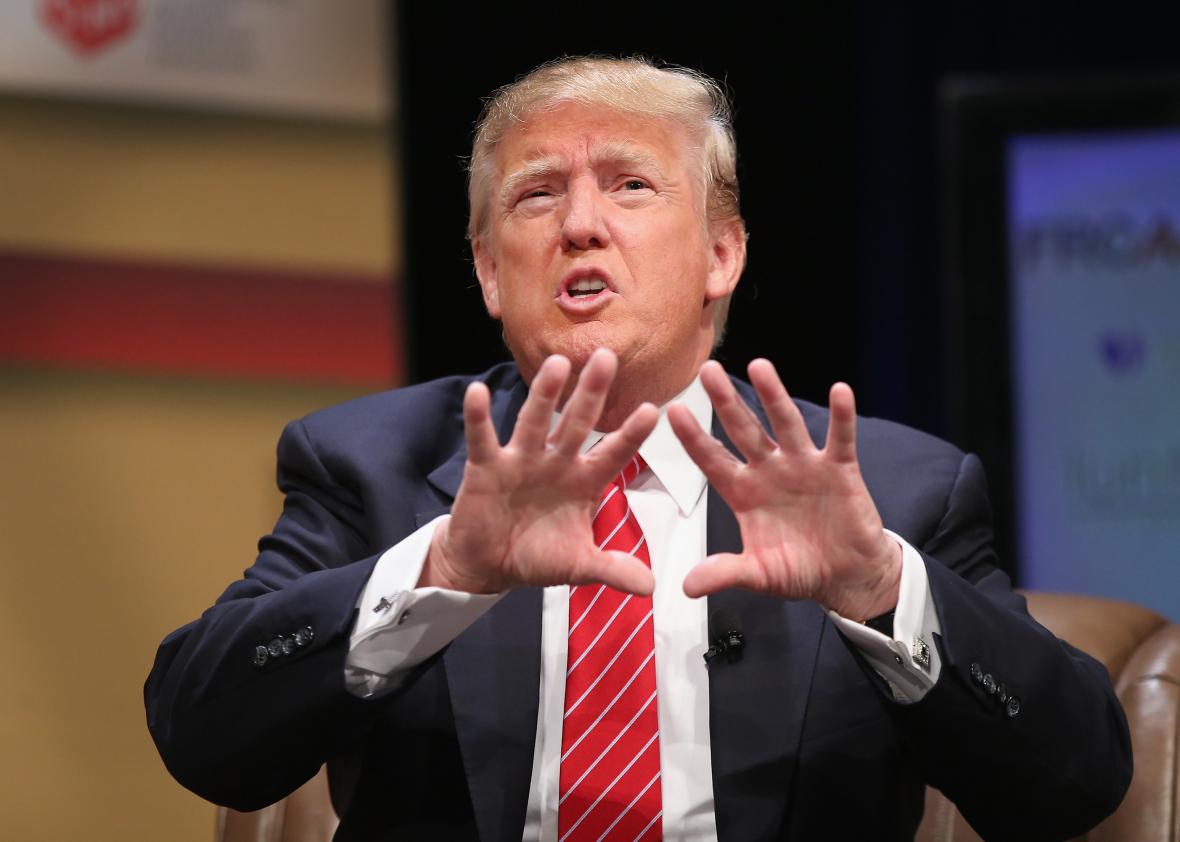 Donald Trump defended himself and fired back at critics Sunday, saying that only "a deviant" would think he was referring to menstruation when he said Fox News host Megyn Kelly had "blood coming out of her wherever." The real estate mogul went on four Sunday morning talk shows to explain himself and tout his appreciation of women. He also continued to criticize RedState's Erick Erickson for disinviting him from a gathering of conservatives after he made his now-infamous comment.
Trump repeatedly refused to apologize for the comment. "There's nothing to apologize [for]," said Trump. "I thought she asked a very, very unfair question. So did everyone on social media, and I answered the question very well." When NBC's Chuck Todd asked Trump whether he realized how his statements could be interpreted, the Republican presidential contender said his point was obvious. "All I said is there is blood pouring out of her eyes and there was blood. And then I said you know what, I'm going to get on to the next sentence because frankly I don't have to talk about the blood coming out of her ears and her nose. It's a very common statement," Trump said.
The real estate mogul also went the extra mile to insist he appreciates women and those who have billed him as a misogynist have it all backward. "I cherish women," Trump told CNN. The theme continued in other talk shows. "I've had such an amazing relationship with women in business. They are amazing executives. They are killers. They are phenomenal," Trump said on ABC.
Trump took the opportunity to try to redirect some of the criticism toward one of his top GOP rivals, Jeb Bush, saying the former governor is the one who has troubling views on women for saying last week that "I'm not sure we need half a billion dollars for women's health issues." Trump said he vehemently disagreed with that statement. "I'm exactly the opposite. I will be phenomenal to the women. I want to help women," he told CBS. "I couldn't believe he even said it. Now he corrected himself a day later, but I don't think that's acceptable."
Some Republican contenders seemed eager to criticize Trump's remarks, but others refused to discuss Trump at all. Notably, Republican National Committee Chairman Reince Priebus canceled an appearance on CBS for unspecified reasons. "That underscored the dilemma that having Trump as its standard bearer creates for a party that wants to harness his supporters without alienating other key voters," points out Bloomberg.
Trump went on a whirlwind tour of Sunday talk shows a day after his campaign said it had fired top political adviser Roger Stone, who quickly denied that was true, insisting he had actually quit.