John Kasich Joins 2016 Race, Has Two Weeks to Get Into GOP Debate Being Held in His Home State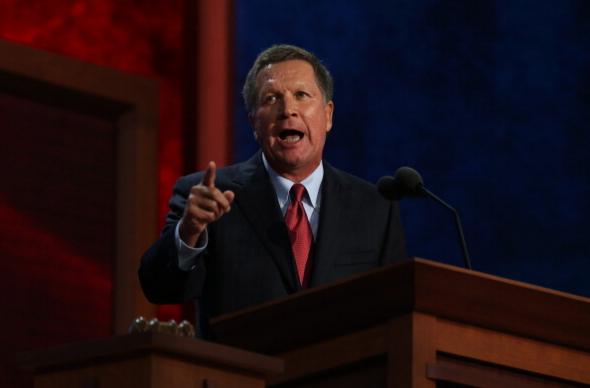 Ohio Gov. John Kasich is expected to draw a crowd of thousands when he declares his candidacy for the Republican presidential nomination in Columbus today. He'll have precisely 14 days to translate that enthusiasm into a jump in the national polls to avoid being sent to the kids' table when Fox News comes to Ohio for the first GOP debate.
The kids' table, aka Fox's extra forum for candidates who don't make it into the official debate, got slightly more dignified this week, when Politico reported that the event had been moved from 1 p.m. to 5 p.m. and would be rolled into Fox's pregame coverage of the "real" debate. Still, no one wants to be there, and Kasich has tough competition for the two or three slots on the grown-up stage that aren't solidly spoken for.
Kasich has so far languished at the bottom of national polls among GOP primary voters, even after five years spent as governor advancing some very popular conservative causes. He's been trimming income taxes and ratcheting up abortion restrictions, and while he's no Scott Walker when it comes to antagonizing organized labor, he did unilaterally wipe out collective bargaining for 15,000 workers this spring (and, as a bonus, blamed it on Obamacare).
But Kasich's body of work might be less important than the rise of Donald Trump in deciding whether he ends up on the debate stage. Trump's jump in standing among GOP voters, by some appearances, has been the hardest on Ted Cruz, who remains in a cluster of candidates whose spots in the debate aren't a lock. As Trump's 20-point swing shows, polls can shift in a hurry, and the lower tier of candidates has a lot of potential for movement. Trump-based erosion, combined with Kasich's rollout bump, might be just enough to push the Texas senator offstage and put Kasich in his place. Kasich might also be announcing at the best possible moment to capitalize on the Trump effect: Even within the new poll that puts Trump out in a commanding lead, there are indications that his disparaging remarks about John McCain over the weekend might have popped his bubble.

Slate's Josh Voorhees wrote recently that Kasich, in his way, could be just as much trouble for GOP contenders like Jeb Bush, Marco Rubio, and Scott Walker as Trump is; Kasich has been open to discussing potential moderate compromises on immigration reform, and in a debate he could publicly challenge other Republican primary candidates to take firm (and controversial) positions on an issue that they'd prefer to gloss over with platitudes. But if the Ohio governor can't goose his poll numbers in coming days, he won't be talking about any of his positions, on immigration or anything else, with the leading 2016 contenders.