Donald Trump Says He Doesn't Owe McCain an Apology as Uproar Increases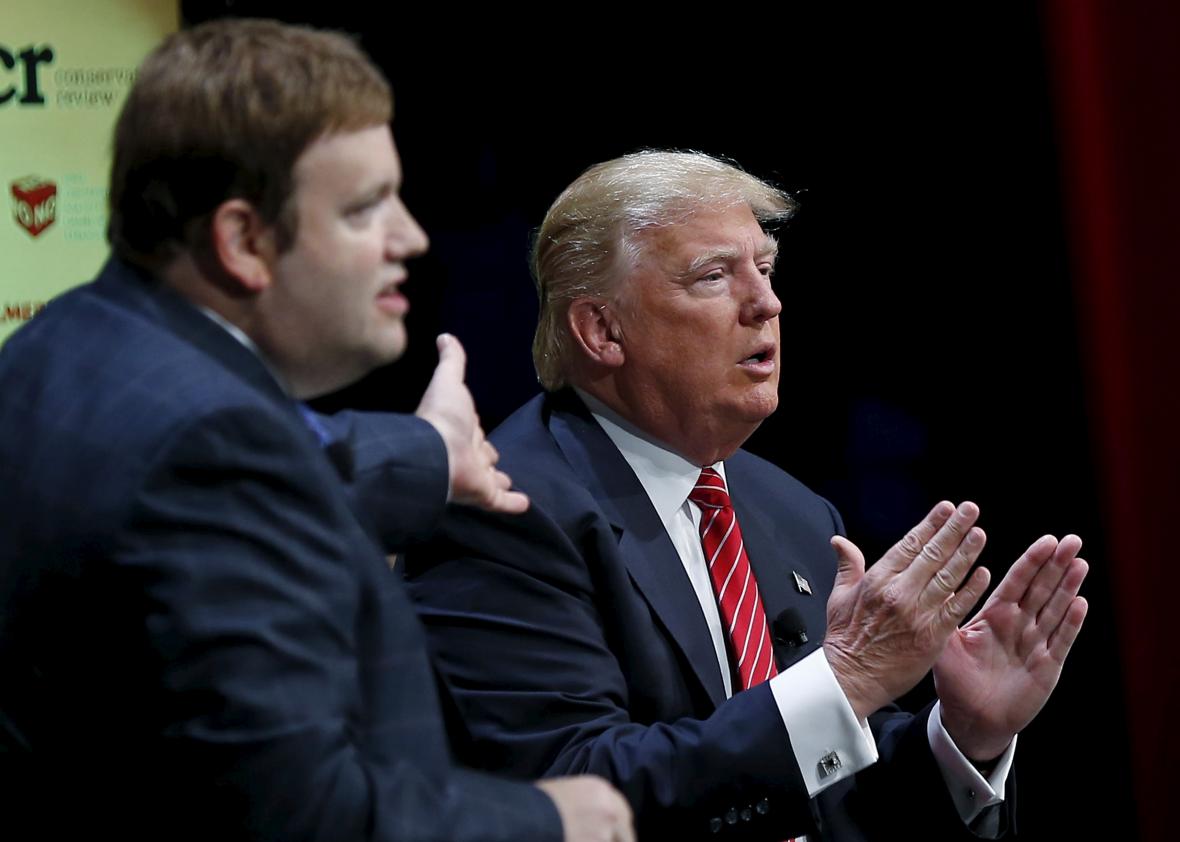 In case there were any doubts, real estate mogul Donald Trump made it clear on Sunday he has no plans to apologize to Sen. John McCain for saying that "he's not a war hero" and that "he's a war hero because he was captured. I like people who weren't captured." He was very succinct when ABC's Martha Raddatz asked him the question directly on Sunday:
Raddatz: Do you owe John McCain an apology?
Trump: No, not at all. Actually, if you look at Sharyl Attkisson's report last night, four times she said I said perfectly, I said whatever it was, and it was absolutely fine. And she thought the press was covering me very—very, very unfairly. And she stated that strongly. And I respect her as a reporter. And somebody that a lot of other people respect.
Also and very importantly I got a standing ovation, the biggest ovation they had all weekend, by far. When I left the room, it was a total standing ovation. It was wonderful to see. Nobody was insulted.
Trump says his words only became controversial when "Republican candidates, some of whom are registering one percent and zero" began attacking him because "they're very upset that I'm leading the polls by actually a nice margin."
When Raddatz insisted on asking whether McCain's capture and torture in Vietnam shouldn't be seen as heroism, Trump pretty much repeated his campaign's statement on the issue. "I'm very disappointed in John McCain because the vets are horribly treated in this country," Trump said. "I'm fighting for the vets. I've done a lot for the vets." He added that McCain has "done nothing to help the vets."
Politicians from both sides of the aisle blasted Trump for his comments. "If anyone doesn't know that John McCain is a war hero, it only proves they know nothing about war and even less about heroism," Secretary of State John Kerry said. For his part, Republican Senator Marco Rubio told CNN Trump managed to insult all the prisoners of war. "He's saying that somehow if you're captured in battle you're less worthy of honors,'' Rubio said. "It's not just absurd, it's offensive. It's ridiculous. And I do think it's a disqualifier as commander in chief.''
Although McCain has declined to get involved in the controversy, his daughter Meghan took to Twitter to say she was "horrified" and "disgusted" by the remarks.
I can't believe what I am reading this morning. Horrified. Disgusted. There are no words.

-- Meghan McCain (@MeghanMcCain) July 18, 2015
McCain's wife, Cindy McCain, didn't directly address Trump's statements but sent out several tweets expressing pride about her son and daughter in law's service.