A Plane Crashed on a Crowded California Beach on the Fourth of July (Video)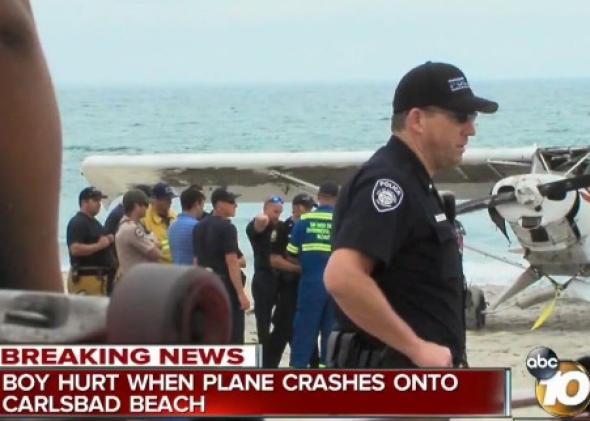 A plane towing a banner above Carlsbad, California on the Fourth of July lost power and crashed on a crowded beach, sending a 12-year-old boy to the hospital, ABC affiliate KGTV reports.
Witness Greg Dukes told San Diego News 6 that the plane dropped its banner over the water and then "went silent" as it hurtled toward the crowd on the shore. Video from Dukes' phone showed the plane plowing onto the sand.
The 23-year-old pilot pilot of the Piper PA18, which came to rest upside-down in shallow water, was uninjured, California State Parks Lt. Justin McHenry told KGTV, and the boy on the beach was taken to San Diego Children's Hospital with minor injuries.
A conveniently pre-headlined video on Twitter appeared to show the moment when people on the beach realized the plane was coming down.
The Federal Aviation Administration and National Transportation Safety Board are investigating the cause of the crash.
According to NTSB records, there has been at least one death caused by a plane towing a promotional banner in the past. In a 1985 incident in Cape May, New Jersey, a ground worker became entangled in a banner as the pilot was taking off and fell to his death after the plane was in the air.