Child Saves Siblings From Home Run Ball as Both Parents Cower in Fear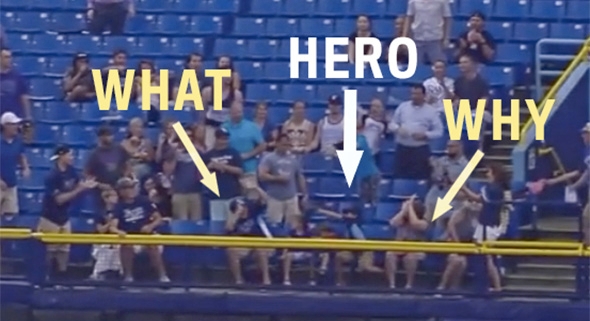 It's from a Tampa Bay Rays game on Tuesday night, and the kid catching the ball is 10-year-old Jeremiah Sprague. The kids he's protecting are his 5-year-old sister and his 2-year-old brother. And the adults ducking away on either side of him are his parents!
"We knew it was going to hit really close but it was just that instinct to protect yourself and looking back on it it was like, 'Man, you missed something great by not seeing it," said Sprague's mother later.
Yeah, you missed your son doing the job that two adults abandoned because they were afraid of a little ball!
Correction, Thursday, June 25: The photo caption in this post originally misidentified the location of the Rays' stadium as Tampa, Florida. The Rays play in St. Petersburg, Florida.