Brian Williams Is Still Telling an Iraq Story Contradicted by Multiple Service Members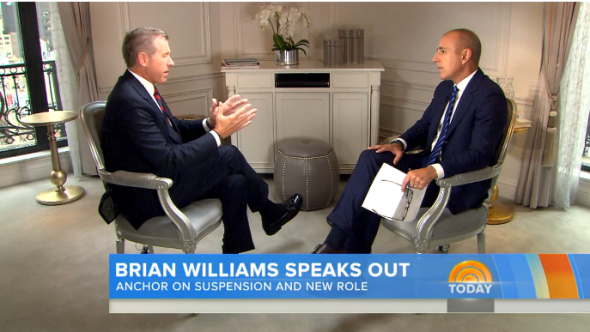 Brian Williams appeared on the Today show with Matt Lauer Friday, his first interview since being suspended from NBC five months ago for serial exaggeration. And Williams is still making statements about his 2003 experiences in Iraq that are contradicted by the preponderance of other first-hand accounts about what happened.
In his interview with Lauer, Williams asserts that he told the truth about a 2003 incident in Iraq "for years before I told it incorrectly." He tells Lauer that his false statements about the incident were made "after work, when I got out of the building"—in outside appearances. But Williams' very first account of the Iraq incident, as well as five subsequent accounts of it that he gave via NBC properties, are disputed by the reporting that Stars and Stripes writer Travis Tritten has done on the incident.

The heart of the issue is this: In 2003, 2005, on three occasions in 2007, and 2008, Williams asserted on NBC television programs or websites that he had been riding in a group of four helicopters that were fired upon in Iraq by insurgents and landed almost immediately thereafter. According to Williams, his inaccurate statements about the incident only began later, when he began saying that he was in a helicopter that was actually hit by an RPG. But the service members that Stars and Stripes spoke to say that Williams was not in the group of helicopters that was fired upon and that Williams' group landed well after the group that actually took fire. There is one service member (Rich Krell, who spoke to CNN) who supports Williams' account. But there are many more service members who say, on the record, that every version of the Iraq story Williams has told—including the one he told, by implication, to Matt Lauer on Friday—is not true.
NBC's statement about its internal investigation of Williams does not address the Stars and Stripes allegations. It does say that Williams' coordinated reentry into the media world is an opportunity to "earn back everyone's trust." But ignoring what service members who were there in 2003 have said on the record—and doing so on an NBC show, unchallenged by an NBC personality who appears unaware of the facts of the situation—is a curious way for the anchor and his network to start convincing viewers to trust them again.