Recording Shows Amtrak Engineer Never Mentioned an Object Hitting Train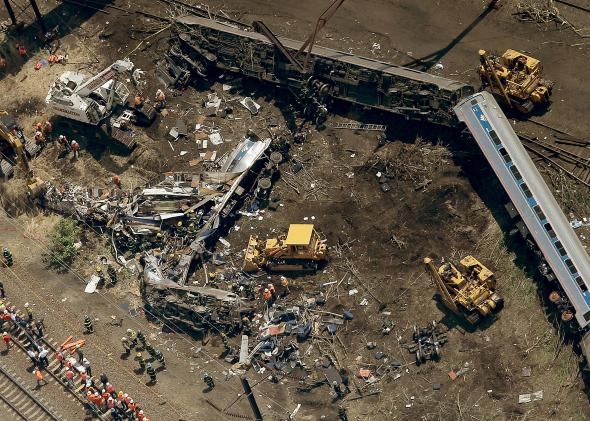 Federal investigators are trying to play down speculation that someone may have shot at the train that derailed last week and killed eight people. "I'd like to downplay that part. I've now seen the fracture pattern. It looks like something about the size of a grapefruit, if you will. And it did not even penetrate the entire windshield," National Transportation Safety Board member Robert Sumwalt said on CBS' Face the Nation Sunday. Officials had said an assistant conductor on the train that derailed heard the engineer talking with a regional train engineer about how the train had been struck by an object. But the regional train engineer does not remember the conversation, and there is no evidence that it took place from the dispatch tape.
"We interviewed the dispatchers and we listened to the dispatch tape, and we heard no communications at all from the Amtrak engineer to the dispatch center to say that something had struck his train," Sumwalt said during an interview with ABC News' This Week. "Nothing at all."
At the same time, something did hit the train, and investigators will try to determine what it was. "We do have this mark on the windshield of the Amtrak train, so we certainly want to trace that lead down," he told CNN's State of the Union. The FBI will join the investigation on Monday to help the NTSB try to figure out what may have struck the train. "It could be completely coincidental or it could be causal. And that's exactly what we intend to find out," Sumwalt said.
For now, investigators remain focused on trying to understand why the train accelerated to twice the speed limit shortly before derailing on a curved section of the track in which the maximum speed is 50 miles per hour. "The only way that an operable train can accelerate would be if the engineer pushed the throttle forward," Sumwalt told CNN. "The event recorder does record throttle movement. We will be looking at that to see if that corresponds to the increased in the speed of the train." The train engineer, 32-year-old Brandon Bastion, has told investigators he does not remember what happened before the crash.