Brian Williams May Have Lied to The Daily Show's Jon Stewart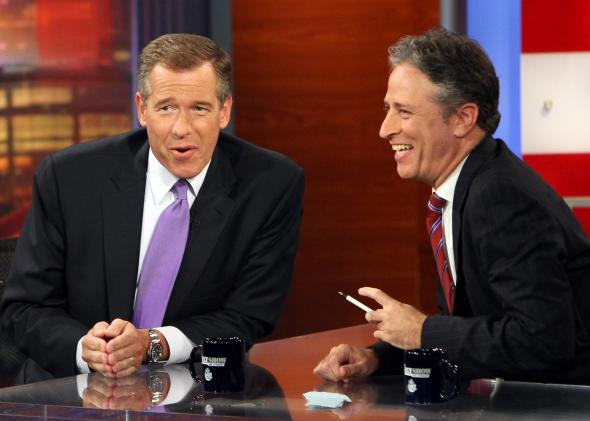 An internal investigation into Brian Williams that is being carried out by NBC News has found six instances in which the suspended anchor is believed to have "fabricated, misrepresented or embellished his accounts," reports the New York Times. Others hear that the number may be even higher with CNN reporting "at least 10 instances of exaggerations and embellishments" while the Washington Post says the number is "at least 11."
At least one of the episodes has never been reported before and involves the chaos at Egypt's Tahrir Square during the Arab Spring. Although the Times does not know for sure what part of Williams' reporting from Egypt is being questioned, it does note that "discrepancies are evident" in accounts that Williams gave in February 2011.
When he appeared on The Daily Show that month, Williams said he "actually made eye contact with the man on the lead horse" during violent clashes between pro- and anti-government protesters. When Stewart mentioned there were reports of the pro-government men on horses whipping anti-government protesters, Williams made it seem like he saw it first hand. "Yeah," Williams said, "he went around the corner after I saw him, they pulled out whips and started beating human beings on the way." But other reports note Williams was not actually in Tahrir Square during the protest.
The investigation, which is being led by senior executive producer Richard Esposito, has also raised questions about Williams' statements about his experience covering Israel's military offensive against Hezbollah in 2006, reports the Washington Post.
It is unclear yet whether the results of the internal investigation will be made public. CNN has said that the final report "may be a form of leverage—to either say that Williams has been cleared of further embellishing, or that he's too damaged to return to the Nightly News." Earlier, the Washington Post reported that staff members at NBC's Washington bureau were adamant that Williams not return to the anchor chair during a meeting in February. Williams' suspension ends in early August.