Paris Man Shoved Off Train by Racist English Soccer Fans Will File Complaint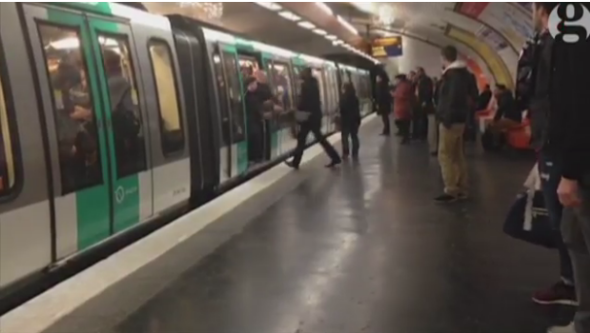 The heretofore anonymous black man who was shoved off a Paris subway train by English soccer fans chanting a racist slogan has been identified and says he will file a complaint with police, a Parisian newspaper reports. The paper, Le Parisien, identified the man as "Souleymane S" and said he's 33 years old, married, and has three children. From the Guardian:
A Frenchman of Mauritanian origin, Souleymane S was born in Paris and grew up in the Val-d'Oise area outside the city. He works in a company near Richelieu-Drouot metro station where the incident happened on Tuesday night. He told Le Parisien: "I wanted to get on to the carriage, but a group of English supporters blocked me and pushed me back. I tried to force a gap and get on. In the scrum, I lost my phone.
"They were saying things to me in English but I didn't really understand what they were saying. I don't speak a word of English."
He added: "I understood they were Chelsea fans and made the link with the PSG match that night. I also understood very well that they were targeting me because of the colour of my skin.
Here's the video of the incident located by the Guardian, during which supporters of the English club Chelsea chant, "We're racist and that's the way we like it."

​
"Souleymane S" told Le Parisien that he'd been unaware the confrontation had been recorded.