Here We Go Again: Another Blizzard Is Headed for New England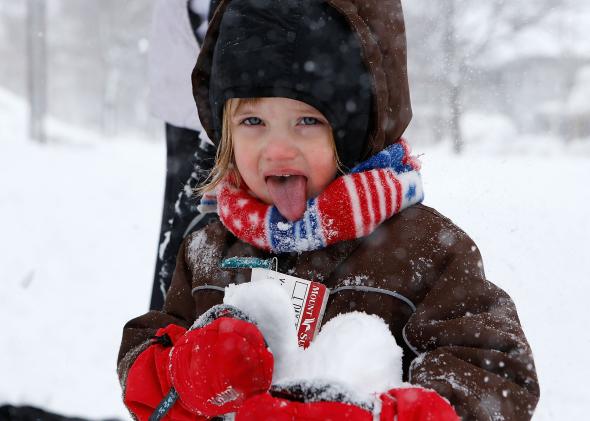 Hurricane-force winds, 2 feet of accumulation, whiteout conditions, thundersnow. For winter-weary New England, this is starting to feel routine.
Another blizzard looks likely to hit the Northeast this weekend, with Boston racking up around a foot of new snow along with very strong winds that could lead to some big snow drifts. Conditions are going to be absolutely brutal throughout most of coastal New England, especially in Maine where the storm's full force is expected.
Boston is quickly approaching its snowiest winter on record—in barely a month's time. On Thursday*, the city broke its all-time February snow record of 41.6 inches, and there are still 16 days left in the month.
The National Weather Service has issued blizzard watches for the entire New England coastline north of Cape Cod, where states of emergency are still in effect as the region struggles with record-setting amounts of snow already on the ground. Another round of system-wide transportation shutdowns—by road, rail, and air—is likely from Boston to Portland, Maine.
With a central pressure equivalent to a category 2 or 3 hurricane at its peak, this storm will rival the "Blizzard of 2015" that hit just a few weeks ago and be as big and windy as a hurricane. In fact, weather models show the storm developing a hurricane-like "eye" feature late Sunday. The storm's huge overall size may rival that of Superstorm Sandy as it approaches the Canadian Maritimes.
After the coming week is over, I'm confident in saying that New England will have completed a month of winter beyond any at least since the United States became a country. The only thing to rival this experience is perhaps the Great Snow of 1717, rumored to have prompted some households to burn their furniture for warmth because they couldn't make it out the door.
Sunday's blizzard will begin as a swirl of intensely cold air falling like a bowling ball out of the Arctic.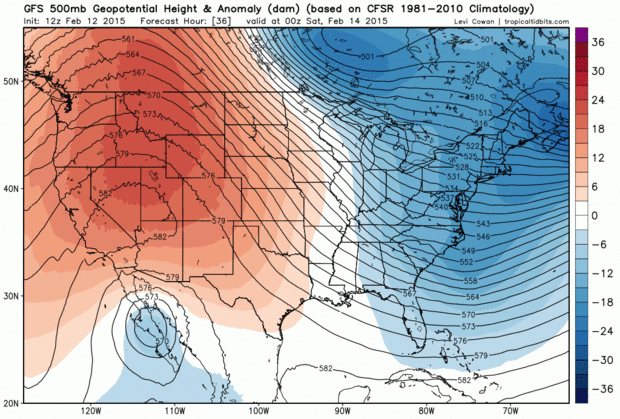 For those in Massachusetts increasingly accustomed to 2- and 3-foot megastorms, this one may actually come as a relief. Blizzards don't require record levels of snow to do their blizzardy thing, and for some, the biggest story of Sunday's storm will be wind, not snowfall. The National Weather Service has issued a high wind watch for gusts up to 60 mph for most of coastal New England, but possibly exceeding 75 mph for exposed areas like Cape Cod, where occasional thundersnow may also occur.
Factoring in lingering uncertainty, there could be anywhere from four to 16 inches of new snow in Boston by Sunday night, though 10 inches is most likely. The wide range is due to the potential for regional snow bands to form once again, which could create sharp differences in snow accumulation over distances of 10 or 20 miles. New York City will be essentially shut-out again, with only two to four inches there.
Should the storm track a bit closer to the coast than currently forecast, it could produce two feet of new snow for coastal Maine and perhaps even more for Nova Scotia. Parts of Maine have even more snow on the ground right now than Boston does, and after this storm the snowpack there could be approaching 100 inches—a truly astonishing figure.
On the heels of Sunday's blizzard will be some of the coldest air the region has seen in years, followed by another chance of accumulating snow on Tuesday and Wednesday. Longer-range weather models are hinting at a welcome break in the parade of snowstorms after that.
The National Weather Service in New York City said "it seems unlikely" for temperatures to reach above the freezing point at any time during the upcoming week. The last time New York City dropped to zero degrees Fahrenheit was January 27, 1994. It could happen again on Sunday night.
Correction, Feb. 13, 2015: This post originally misstated that Boston broke its all-time February snow record on Sunday.