Sorry, Boston: Two More Major Storms On the Way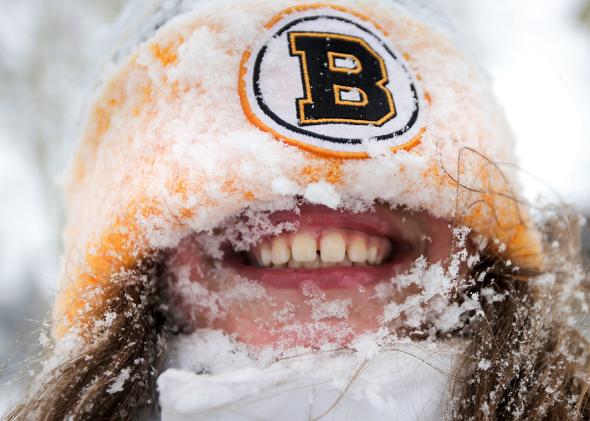 New England is locked in to a weather pattern for the ages. Don't expect it to change anytime soon.
Shovelers mourned the latest onslaught of wintry misery on Monday, as nearly 2 feet of additional snow fell in Boston since Saturday. The city has recorded its snowiest 30-day stretch in history in just 17 days, breaking the record by more than a foot. A full Gronk of snow (6 feet, 6 inches) is now in sight for Boston, and will likely be exceeded by the end of the week.
With nowhere left for plows to park the stuff—the city's "snow farms" are nearly full—Mayor Martin Walsh received permission from the state's environmental agency to dump excess snow into Boston Harbor. Roof collapses were reported throughout the Boston area on Monday under the weight of a record-setting snowpack. Nearly 50 commuters abandoned a Massachusetts Bay Transportation Authority train after it became stuck due to snow and ice buildup on the third rail on Monday. As of Tuesday, Boston's public schools have closed eight times already this winter, the most in 20 years. Without canceling scheduled vacation days—including spring break—that means the school year could now stretch into July. Jury selection for the Boston Marathon bombing trial was also postponed due to the snow. Via Boston's Snow Stats website, the city's snowplows have now collectively traveled the distance from the Earth to the moon so far this winter.
Unfortunately, this isn't the worst of it. Weather models are increasingly insistent on two more major storms this week, one on Thursday to Friday and another potentially bigger one on Sunday.
The National Weather Service is saying "all signs point to yes that a likely storm system will impact southern New England" on Thursday. Weather models show the storm will likely remain just a hair too far out to sea to produce widespread impacts beyond Cape Cod. Still, Boston could easily receive an additional 6 to 12 inches of snow.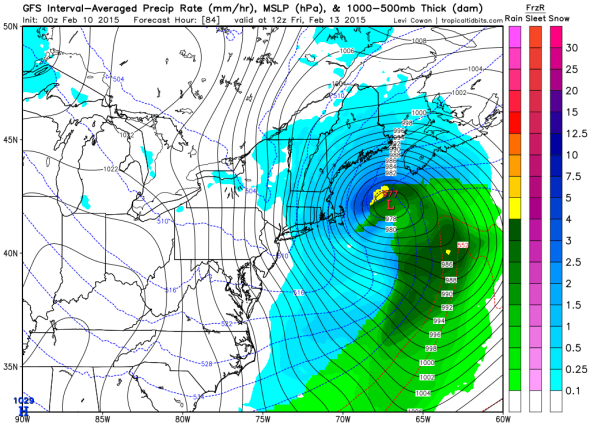 The European model is hinting at even bigger potential for Sunday's storm, though there's low agreement so far among the other major weather models. The National Weather Service says the storm could be of "significant strength and longevity leaving a considerable mark on our region," especially if it tracks a little closer to shore than is currently indicated, but it's not ready to commit yet. In a Tuesday morning update, the National Weather service urged Massachusetts residents to clear their roofs of snow in advance of the impending snowstorms.
Last week's snow burst broke the city's seven-day snowfall record of 31.2 inches in January 1996, with 40.5 inches between Jan. 27 and Feb. 2. Starting with the Feb. 2 snowfall, the city came within hours of breaking that mark again, racking up 40.1 inches of snow over the last eight days (Feb. 2 to 9). Boston's never had three 15-inch snowstorms in a single winter before. This year, they've done that in less than three weeks. Two of those storms (Jan. 26 to 27 and Feb. 7 to 9) now rank among the 10 largest snowstorms in the city's history. The stunning surge of the last three weeks has quickly put Boston on a pace for its snowiest winter ever.
With the snow falling roughly three times faster than at any other point in Boston history, it's fair to wonder if there's a connection to climate change. As in New York City, recent years have seen a surge in big snowstorms. Five of the 10 biggest snows on record in Boston have come since just 2003, in a record that dates back to 1872.
Monday's storm in particular came via a coastal front that was strengthened due to the clash between cold Arctic air and the warmer-than-normal Gulf Stream waters offshore. That front remained stationary for more than a day, forcing the relatively moist air onshore where it was converted into snow via "ocean enhancement." This is a common feature in Massachusetts winters, but Monday was an extreme example.
Since warmer air holds more moisture, there's a good chance Monday's storm was made worse by human-caused climate change. That would fit the trend with the general rise in extreme precipitation throughout the Northeast in recent decades. The recent National Climate Assessment reports a 71 percent increase in the amount of precipitation falling in the heaviest precipitation events since 1958.
Meanwhile, magnolias are budding on the National Mall in Washington, D.C. after a weekend of record-high temperatures that affected most of the rest of the country. In Denver, temperatures have been flirting with 70 degrees for most of the last two weeks, displaying weather more typical of May. On average, there's more snow on the ground in Boston right now than in California's Sierra Range, which sits at less than one-third of normal snowpack amid a fourth year of drought.
Looking at the latest weather models, that same general pattern—warm in the West, cold in the East—appears to continue for at least the next two weeks. A bit of good news: For the first time in weeks, there's no firm signal of a significant snowstorm beyond this coming weekend, but that doesn't mean winter can't get worse.
On the heels of the next two snowstorms, the overnight run of the GFS model predicted a prolonged stretch of truly frigid weather in the Northeast. As one extreme example, starting Friday night, Boston may endure 100 consecutive hours below 20 degrees Fahrenheit. Whatever snow that falls this week is going to stick around for awhile.