New Snowstorm Kicks Off a February Time-Loop Of Wintry Misery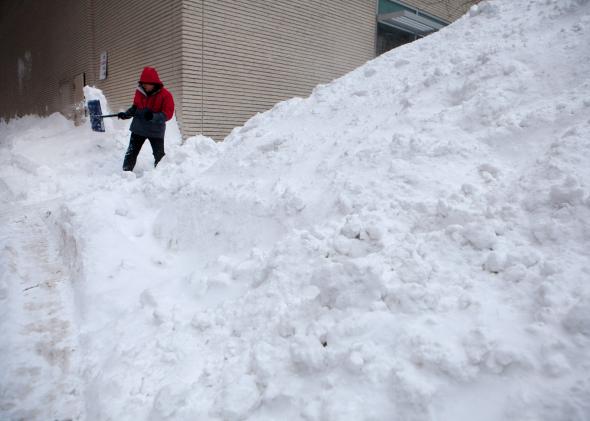 With yet another snowstorm inbound for Groundhog Day (meteorology's unofficial national holiday), it looks like the atmosphere will be stuck in a Bill Murray–esque time-loop during at least the first half of February: The snowstorms will keep coming over and over and over again for the East.
The big storm was already in full swing in Chicago on Sunday, with blizzard warnings posted and the National Weather Service predicting a potential top-10 snowfall. A Vine by Wisconsin meteorologist Chris Gloninger showed full-out blizzard conditions in Kenosha.
As the storm nears the East Coast, another major impact is likely in Boston, just days after one of the biggest snowfalls in that city's history. Boston schools are closed on Monday, with the city likely to receive another foot of wind-driven snow. Though not as potent as last week's storm, Monday's wintry blast will be another significant wallop for New England, where snow totals in some areas will surpass those typically measured over the course of an entire year.

In contrast, Monday's snowstorm is looking like another huge disappointment in New York City. With low pressure passing nearly directly over the city, it's a crapshoot as to what sorts of effects will be felt from the second major winter storm in a week.
This time around, several hours of freezing rain and wind-driven sleet (otherwise known as the worst) seem more likely than another blanket of fluffy snow.
Here are three equally likely scenarios for Monday in New York City. Pick your poison:
Low pressure passes north of NYC: In this scenario, the city will miss out almost entirely from this storm, likely getting only an inch or two of slush during the morning hours, and then a full day of 40-degree plain rain, pretty much the most miserable winter weather imaginable. All that slush will freeze solid overnight Monday as a major cold front kicks in.
Low pressure passes over NYC: In this scenario, the city will receive a quick three to four inches of snow in the early morning hours before a changeover to freezing rain or sleet. The ice could hold fast for most of the day, leading to a glaze of up to a quarter inch, enough to bring down big tree branches in Central Park and cause power outages for parts of the city that have overhead power lines.
Low pressure passes south of NYC: In this scenario, the city racks up another six to 12 inches of snowfall throughout the day, about as much as fell during last week's storm. But even in this situation, expect at least a brief changeover to ice, which will slushify the snow and make for a really yucky afternoon sidewalk experience.
Following Monday's snow and ice fest, at least three harsh blasts of Arctic air will infiltrate the Northeast this week, on Tuesday, Friday, and Sunday. According to Sunday afternoon's Global Forecast System (GFS), subsequent snowstorms are possible on the East Coast on February 5, 8, 9-10, 14, 16, and 18. Sunday Feb. 8 looks to feature the most impressive cold front of the bunch, with actual temperatures falling to well below zero for much of New England, and wind chills even colder than that.
Six more weeks of winter is a sure bet.