Controversial St. Louis Police Rep Involved in Scuffle at Civilian Oversight Hearing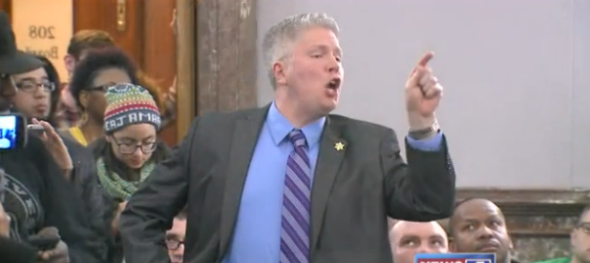 Jeff Roorda—the St. Louis police union representative who demanded an apology from the NFL after several players made protest gestures earlier this year (and who was fired from a police job in 2001 for dishonesty)—was involved in a large scuffle that ended a hearing on civilian-police relations in St. Louis on Wednesday night. The subject of the hearing was a proposed civilian oversight board for monitoring city police. From the St. Louis Post-Dispatch:
The meeting held by the aldermanic public safety committee, designed to seek public comment, lasted more than an hour with little event as residents ticked off the pros and cons of having a civilian board to review police conduct and procedures.
But the crowd became unsettled when police officers began testifying in opposition to the bill. At times, Alderman Terry Kennedy, who chairs the committee, struggled to keep order. The noise in the room spiked as police officers attempted to testify.
During this police testimony, Roorda—wearing an "I Am Darren Wilson" bracelet—stood to demand that Kennedy restore order. He then began moving toward the front of the room and bumped into a woman named Cachet Currie who later said she'd been trying to leave the meeting. Pushing and shoving broke out; it doesn't appear any serious violence or injuries occurred, but after 15 minutes of disorder the meeting was adjourned. You can see the beginning of the commotion about a minute into this KMOV report:

Kennedy told the Post-Dispatch he's not sure when the oversight proposal will be brought to a vote of the Board of Aldermen.