Ferguson Protesters Shift Tactics and Target Black Friday Sales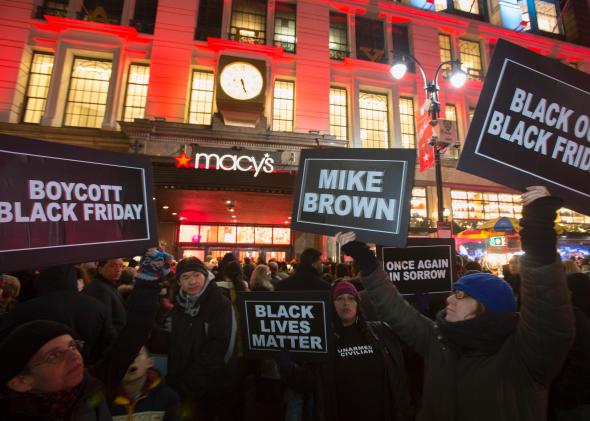 Out of the street and into the shopping mall. Protesters in and around Ferguson, Missouri—as well as in other cities across the country—moved forward with a plan to target Black Friday sales to express their anger at the grand jury's decision to not indict Darren Wilson, the police officer who killed Michael Brown. The protests began in the St. Louis area overnight at a Target and numerous Walmart stores and are set to continue throughout Friday. Protesters also converged outside the Macy's in New York hours after at least seven people were arrested for trying to disrupt the Thanksgiving Day parade.

The demonstrations appear to be similar for each store as dozens of protesters gather amid holiday shoppers to chant, "Hands up, don't shoot!" "No justice, no peace, no racist police," and "shut it down," among others, reports USA Today. Some tried to talk shoppers into dropping their carts. "Back away from the Walmart, back away," one group sang.
The protesters have so far dispersed peacefully when ordered to do so by police, notes Reuters. At one Walmart in Manchester, Missouri, officers warned protesters risked getting arrested if they failed to move at least 50 feet from the store's entrance, according to a local Fox affiliate. They then proceeded to push them back. In Brentwood, a group of around 75 people began chanting inside the Brentwood Target at around 10:20 p.m. and demonstrated for around 15 minutes, according to KSDK. Ferguson itself was quiet for the second straight night on Thursday.