Hong Kong Police Help "New Era" of Civil Disobedience Grow by Firing Tear Gas on Protesters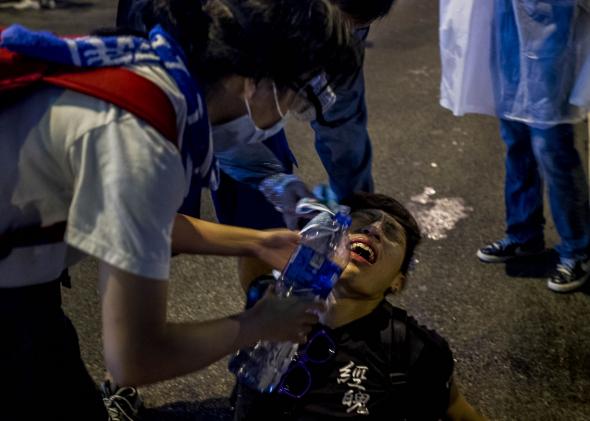 Police in Hong Kong tried to clear out thousands of pro-democracy protesters that had blocked traffic in some of the busiest areas of downtown with the harshest response against demonstrators since the city returned to Chinese rule in 1997, according to Bloomberg. It seems their efforts failed spectacularly and actually ended up backfiring. Whereas the pro-democracy protesters were tightly concentrated before, the tear gas made them spread out from downtown "across three of Hong Kong's most important commercial neighborhoods," reports the Wall Street Journal. The protesters were trying to join a sit-in outside government headquarters that was calling for democratic reforms. First launched by students, members of the broader Occupy Central movement said Saturday night they would join them to launch the long-threatened era of civil disobedience.
Protesters came to the demonstration well-prepared on Sunday. "Many arrived sporting raincoats or wrapped in plastic with swimming goggles over their eyes—items chosen to protest against the sting of tear gas and pepper spray," notes the BBC's Juliana Liu. The tear gas, however, seems to have surprised everyone.

Police say they have arrested 78 people in the largely peaceful protests and at least 26 people were injured and hospitalized, reports CNN. That comes after 70 people were arrested Saturday. In addition to the tear gas, police had already used batons and pepper spray to try to disperse protesters although all the efforts appeared to have the opposite effect and got more people to join the demonstrators. The police warned a harsher response could be imminent. "Police will use a higher level of force in order to restore public order and safeguard public safety," the police said in a statement that urged demonstrators to leave, reports the Associated Press. They were hardly alone. Protest organizers also called on demonstrators to leave the sit-in, saying police could start using rubber bullets, but it seems few have budged.
One of the organizers of the protest warned the demonstrations would now be unstoppable, saying the only way to end them would be for Beijing to backtrack on its decisions on political reform, reports the South China Morning Post. The protesters have been demanding that Hong Kong be able to elect its leaders without the interference of Beijing. Last month, China said that any candidate for the 2017 election of chief executive, as Hong Kong's leader is known, had to be vetted by a central committee, effectively assuring Beijing would have veto power.
A live video feed of the protests is available here: