Derek Jeter, Truest Yankee of Them All, Wins Final Home Game With Walk-Off Single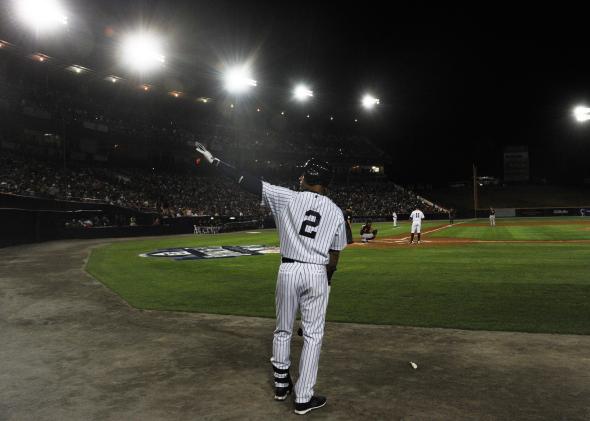 On Thursday night in the Bronx, Yankees shortstop Derek Jeter singled to right field in the bottom of the 9th inning, driving in the winning run in a 6-5 New York victory.
This was the rare case when a home crowd was happy to see its team blow a lead: Jeter came to the plate one last time because the Yankees gave up three runs in the top of the 9th, allowing the Orioles to tie the game 5-5. On his last swing in Yankee Stadium, Jeter showed off his best-known skill, slapping the first pitch from Orioles pitcher Evan Meek to the opposite field. Pinch runner Antoan Richardson barely beat the throw home, but who cares about that guy? Derek Jeter! Derek Jeter!

There was something for everyone on this historic night. Jeter, known for his terrible defense, committed his 11th error of the season on a bad throw in the second inning. But that was all forgotten when Jeter knocked in the game-winner, hugged his current and former teammates, and ascended to heaven as Frank Sinatra's "My Way" played over the Yankee Stadium sound system.