Wendy Davis, Who Rose to Fame for Pro-Choice Filibuster, Reveals She Had Abortion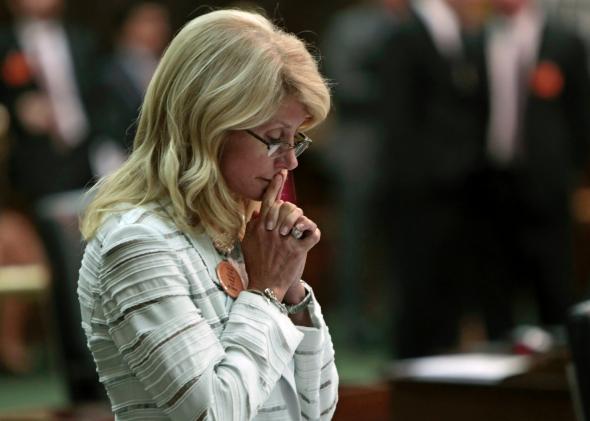 Texas gubernatorial candidate Wendy Davis, who became an overnight political star last year when her filibuster managed to delay the implementation of tough abortion rules in the state, reveals in her new memoir that she terminated two pregnancies in the 1990s. In her upcoming memoir Forgetting to be Afraid, Davis discloses she had an abortion in 1996, after doctors told her the fetus had a severe brain abnormality and her baby girl would be blind, deaf, and in a permanent vegetative state. That abortion came two years after Davis terminated an ectopic pregnancy, which is when an embryo implants outside the uterus.
"Our baby had a severe brain abnormality," Davis told ABC News in an interview that will be broadcast Monday. "We knew that the most loving thing that we could do for our daughter was to say goodbye."
Davis says she made her decision after seeking numerous medical opinions and feeling the fetus "tremble violenty, as if someone were applying an electric shock to her," which she says made her realize "she was suffering," reports the San Antonio Express-News, which, along with the Associated Press, obtained an early copy of the book that will be released next week. Terminating the pregnancy changed her, writes Davis:
An indescribable blackness followed. It was a deep, dark despair and grief, a heavy wave that crushed me, that made me wonder if I would ever surface. ... And when I finally did come through it, I emerged a different person. Changed. Forever changed.
Both abortions took place before Davis began her political career. As a state senator from Fort Worth, Davis became a national Democratic Party star last year after she put on pink sneakers and filibustered for almost 13 hours against a bill that would restrict access to abortions. The filibuster was not enough though, and the restrictions eventually passed.
Republican Attorney General Greg Abbott, who is running against Davis to replace Gov. Rick Perry, issued a statement Saturday calling the abortions a tragedy. "The unspeakable pain of losing a child is beyond tragic for any parent. As a father, I grieve for the Davis family and for the loss of life," Abbott said in a short statement.