Landlord in Gentrifying Silicon Valley Neighborhood Tried to Evict Rent-Controlled Tenant Over 75-Cent Debt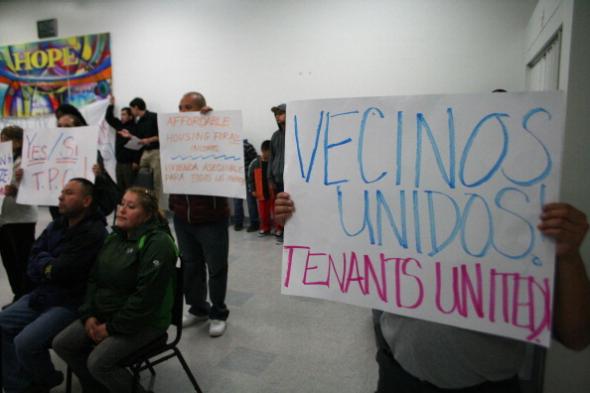 Bloomberg News has been reporting of late on the real-estate situation in East Palo Alto, California, which is one of the few remaining islands of low-rent housing in a Silicon Valley market flooded with startup cash. Many apartments in East Palo Alto are protected by rent-control laws. But one major landlord in in the city—Equity Residential, a publicly traded company—is, according to Bloomberg, trying to make way for yuppification by evicting the residents of rent-controlled apartments through abusive means. (Once a rent-control tenant moves out, an apartment can be rented at a market rate.) Equity Residential is sending out "200 to 300" eviction notices every month at Woodland Park, a complex of just 1,800 units.
Equity Residential has been issuing about 200 to 300 notices a month that give delinquent tenants three days to pay rent or face eviction, said Norma Jaimez, senior accountant at Woodland Park, in a November deposition by Bowman, a lawyer with Community Legal Services in East Palo Alto. Tenants are considered in default for rents not paid as soon as the first day of the month and some are subject to $50 late charges, according to Woodland Park leases in court files.
"I have the right to three-day them after the first day after when their rent is due," Jaimez said in the deposition as part of a tenant challenge to an eviction.
You read that right: Equity Residential is sending eviction notices to people who are one day late on a month's rent. A Bloomberg TV segment this morning reported by Willem Marx cited an instance in which a Woodland Park resident was issued an eviction notice over a debt of seventy-five godforsaken cents.
Tenants can challenge the evictions in court, sometimes winning the right to stay in their homes if they can prove that Equity Residential violated laws covering rent increases or failed to hold up its end of their lease by not making necessary repairs. But many tenants, Bloomberg reports, simply move out because they are either unaware of their rights or are afraid of repercussions regarding their immigration status.
​
Correction, June 9, 2014: This post originally misspelled Bloomberg TV correspondent Willem Marx's name.