California Gunman Details Slights From Women in Manifesto, Says Police Almost Caught Him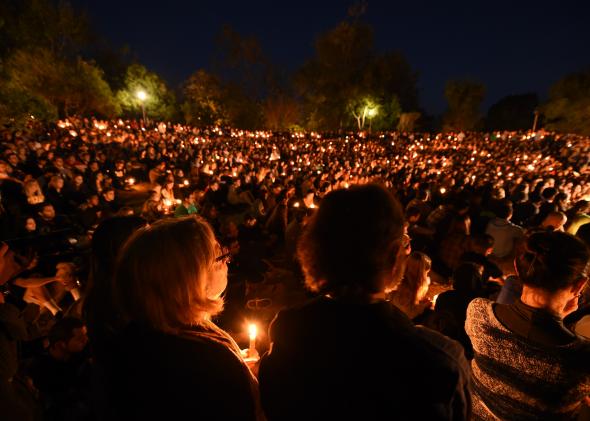 Elliot Rodger, the 22-year-old suspected of having killed six people near the University of California Santa Barbara before shooting and killing himself wrote a detailed 141-page manifesto that he sent to some of his closest friends and family shortly before the rampage. Someone forwarded the document to local ABC affiliate KEYT-TV, which then shared it with several media outlets. The Los Angeles Times publishes long excerpts from the chilling document that outlined exactly why he wanted to kill people and whom he would target. Just as in the video he posted shortly before the killings, the manifesto makes it clear he felt tormented by the "beautiful blonde girls" who wouldn't give him the time of day.
If only one pretty girl had shown some form of attraction to me, the Day of Retribution would never happen. I'd never even consider it. The Day of Retribution is mainly my war against women for rejecting me and depriving me of sex and love. If only one girl had given me a chance, tried to get to know me, let me take her out on a date.
The document goes into great details about the slights Rodger says he suffered from women, who "are attracted to the wrong type of male." And because of that "I realized that I would be a virgin forever, condemned to suffer rejection and humiliation at the hands of women because they don't fancy me, because their sexual attractions are flawed."
In the document, Rodger details how his plans were nearly foiled by the police officers who knocked on his door shortly after he posted YouTube videos "to express my views and feelings to the world." A group of seven police officers knocked on his door after he had written out a detailed plan for the killings and even purchased the guns.
I had the striking and devastating fear that someone had somehow discovered what I was planning to do, and reported me for it.
If that was the case, the police would have searched my room, found all of my guns and weapons, along with my writings about what I plan to do with them. I would have been thrown in jail, denied of the chance to exact revenge on my enemies. I can't imagine a hell darker than that. Thankfully, that wasn't the case, but it was so close.
The killings occurred pretty much as Rodger outlined in the manifesto. The first three people Rodger killed were in his own apartment, details the Associated Press. Then he went to the Alpha Phi sorority house, which in the manifesto he describes as the "hottest sorority of UCSB." No one answered the door so he killed two women standing nearby before driving to a convenience store and killing a 20-year-old male UCSB student. He then got back in his car and got into two separate shootouts with police officers. While he was carrying out his rampage, his parents had set out on a mission to find him after reading his manifesto and seeing his latest YouTube video, reports CNN. On their way to Santa Barbara from Los Angeles they heard about the shooting.