Listen to the Shocking Audio That Shows LA Clippers Owner Is a Racist Idiot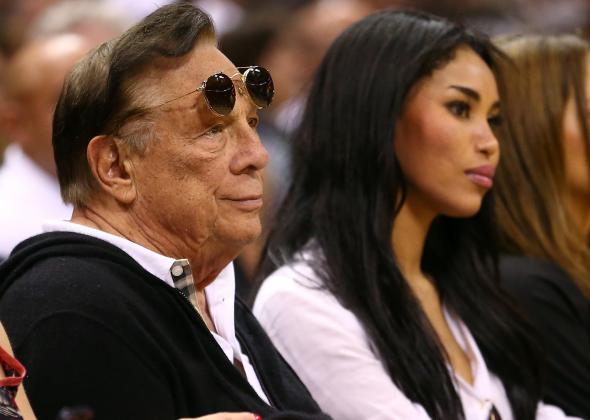 It's hardly news that Donald Sterling is a racist. In fact, Deadspin has helpfully compiled a selection of statements to help everyone "grasp how loathsome the Los Angeles Clippers owner's bigotry is" and just how much his racist views have shaped his personal and professional lives. Despite all this previous evidence of his loathsome views though, the audio that TMZ released early Saturday is still shocking. In the nine-minute-long recording of a conversation that apparently took place on April 9, Sterling harshly criticizes his girlfriend—who, by the way, is black and Mexican—for posting pictures of herself with black people on her Instagram account. Furthermore, he insists she can't bring black people to his team's games, including Magic Johnson. The argument apparently started because his girlfriend, V. Stiviano, posted a photo with Johnson on her Instagram account a few weeks ago.
The recording is worth a full listen to get the full picutre of just how awful this guy's views are, but there are several highlights—or more like lowlights. "It bothers me a lot that you want to broadcast that you're associating with black people," he tells his girlfriend, V. Stiviano, at one point. "Do you have to?" Stiviano then asks Sterling whether he wants her to hate black people. He insists she's twisting his words: "I want you to love them—privately … But why publicize it on the Instagram and why bring it to my games?" At one point, Sterling says "I love the black people" and then goes on to insist that "I love everybody."
Stiviano says she took a picture with Johnson because she admires him. Sterling responds that she's right to admire him, but why do it so publicly? "You can do anything," he says, going on to say she's free to have sex with him if she wants. "But don't put him on an Instagram for the world to have to see so they have to call me. And don't bring him to my games." Johnson is quite calm when TMZ asks for his reaction: "It's a shame that Donald Sterling feels that way about African-Americans."
SB Nation says the audio is the last straw and the NBA must do something about "the worst human being who owns a major sports franchise." It's time for the NBA to say that "enough is enough and make it clear that owners will be held to the same damn standard applied to players and coaches and GMs." More importantly though, other owners have to make sure they make it clear to all NBA fans and players that this type of behavior will not be condoned.