Teen Survives Flight to Hawaii in Plane's Wheel Well, Officials Call It a "Miracle"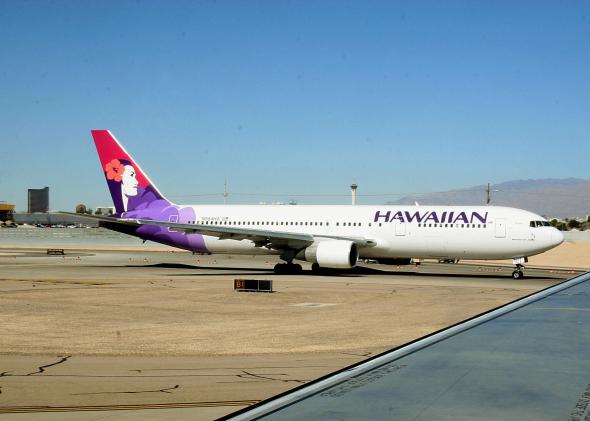 A 16-year-old boy from California seems to have somehow managed to survive a five-and-a-half hour flight to Hawaii in the wheel well of a Hawaiian Airlines jet. The boy was apparently running away from home after an argument with his family and decided to hop a fence at San Jose's Mineta International Airport and climb inside the wheel well of Hawaiian Airlines Flight 45 on Sunday morning. He appears to have been unharmed, which some are having trouble believing. "How he survived I don't know," said Tom Simon, an FBI spokesman based in Honolulu, according to the Los Angeles Times. "It's a miracle."
Authorities assume the teen was likely unconscious for almost the entire flight. "I imagine he must have blacked out at about 10,000 feet," the FBI spokesman said. "The air is pretty thin up there." Once the plane landed in Maui it appears to have taken the boy an additional hour to regain consciousness before he hopped onto the tarmac. That's when Hawaiian Airlines personnel noticed him and called security. He was then questioned by the FBI, reports the Associated Press. The Maui News details that the boy didn't have anything on him except for a comb.
Some experts say the story comes close to being unbelievable. "It sounds really incredible," aviation expert Jeff Wise tells CNN. "Being in a wheel well is like all of a sudden being on top of Mount Everest." Considering the poor conditions, life expectancy in those situations "is measured in minutes," he added. Airlines analyst Peter Forman tells Honolulu-based KHON that "for somebody to survive multiple hours with that lack of oxygen and that cold is just miraculous. I've never heard of anything like that before."
Despite the doubts though, security footage in both the California and Hawaii airports appear to confirm the teenager's story. And he would hardly be the first to survive such a treacherous journey. A stowaway once managed to survive a flight from Havana to Madrid, while another survived a flight from Bogota to Miami.
In a research report, the FAA explains what may have helped stowaways survive:
Despite the lack of pressurization, or personal O2 equipment, the presence of warm hydraulic lines in the wheel-well and the initially warm tires provided significant heat. The stable climb of the aircraft enabled hypoxia to lead to gradual unconsciousness. As the wheel-well environment slowly cooled, hypothermia accompanies the deep hypoxia, preserving nervous system viability. With descent, and warming, along with increasing atmospheric oxygen pressure, hypoxia and hypothermia slowly resolved.