Moscow, Kiev Point Fingers After Shootout in Eastern Ukraine Checkpoint Kills at Least Three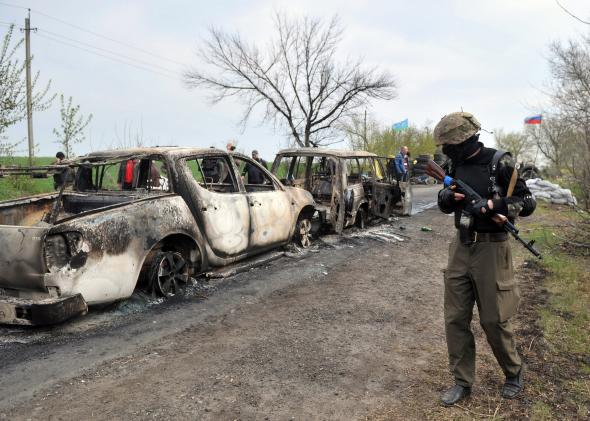 Moscow blames Kiev, Kiev blames Moscow. In what appears to be the first bloodshed since the agreement sealed in Geneva last week, at least three people were killed early Sunday in a gun battle at a checkpoint manned by pro-Russian militants in eastern Ukraine. Details on the bloodshed are far from clear. Pro-Russian separatists say they were attacked by a Ukrainian nationalist group, but the nationalist group says Russian special forces were behind the attack, reports Reuters. The deputy head of Ukraine's National Security Council told the BBC that while the attack is being investigated there are hints it involved an argument "between local criminal groups."
Russia's Foreign Ministry did not waste time, and issued a statement saying Ukrainian nationalists are to blame for the attack. But Ukraine mocked the supposed evidence presented by Moscow, including what the Associated Press describes as "a pristine business card said to have been left behind by the attackers." Kiev says Russia wants to use these types of clashes as an excuse to grab more Ukrainian territory. Indeed, on NBC's Meet the Press Ukrainian Prime Minister Arseniy Yatsenyuk said that Russian President Vladimir "Putin has a dream to restore the Soviet Union. And every day, he goes further and further."
Advertisement

After the shootout at the checkpoint early Sunday, the self-appointed pro-Russian mayor of nearby Slavyansk called on Putin to send peacekeeping troops to protect the Russian-speaking population. "They want to make us slaves. They don't talk to us, but simply kill us," Vyacheslav Ponomaryov said during a news conference.
The killings are hardly the first challenge for the Geneva agreement that was sealed between Russia, Ukraine, the European Union, and the United States last week. Pro-Russian separatists have also refused to give up their weapons and abandon the public buildings they have occupied in at least 10 eastern towns in recent weeks, notes the Guardian.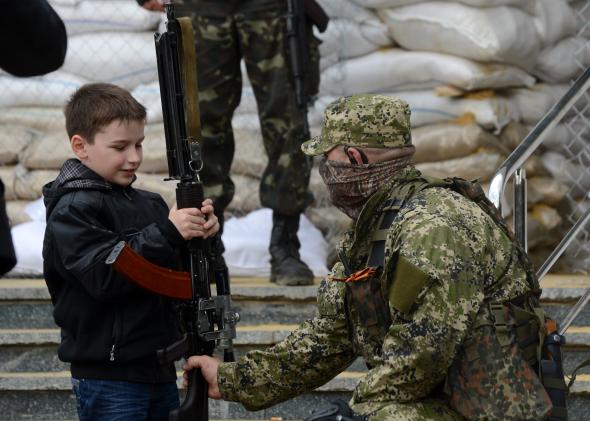 TODAY IN SLATE
Politics
Smash and Grab
Will competitive Senate contests in Kansas and South Dakota lead to more late-breaking races in future elections?