Ukraine Launches Anti-Terror Operation After Failing to Reassert Authority in Eastern City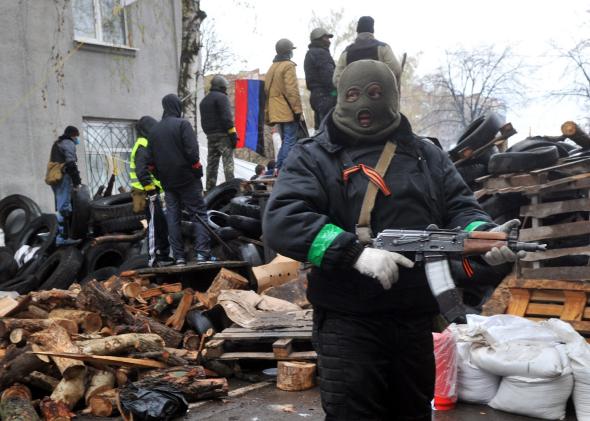 Tensions are rising in Ukraine after the Kiev government failed to push back against pro-Russian separatists that have taken over the eastern city of Slovyansk. After at least one Ukrainian security official was killed, Ukraine's President Oleksandr Turchynov said the country will be launching a "large-scale anti-terrorist operation" to fight back against what he characterized as Russian aggression. "We're not going to allow Russia to repeat the Crimean scenario in Ukraine's east," he said, according to the Associated Press. Russian media report that one pro-Moscow protester was also killed.
The announcement came after Ukrainian special forces made little headway in their goal to quash a rapidly growing separatist revolt in the country's east. The Ukrainian forces focused on Slovyansk, where pro-Russian militants appeared to be in control of the entire city and had even set up checkpoints, reports the New York Times. Sunday marked the first time there was a gun battle against pro-Russian protesters that have cropped up in recent weeks to demand autonomy from Kiev.

Kiev blames Russia for the violence, but Russian Foreign Minister Sergei Lavrov said the Ukrainian government was "demonstrating its inability to take responsibility for the fate of the country" warning that violence against Russian speakers "would undermine the potential for cooperation," reports the Wall Street Journal. Moscow has long warned it reserved the right to step in to defend Russian speakers in eastern Ukraine. American and NATO officials estimate around 40,000 Russian troops are on their side of the border conducting long-running exercises, notes the Washington Post. Slovyansk is less than 100 miles from the border.
Meanwhile, NATO Secretary-General Anders Fogh Rasmussen noted there are striking similarities between the pro-Russian separatists who have been cropping up in Ukraine's east with the Russian troops who had seized control in Crimea. "Any further Russian military interference, under any pretext, will only deepen Russia's international isolation," he said, according to Reuters. Samantha Power, the US ambassador to the UN, agrees with the similarities, noting the unrest "bears the tell-tale signs of Moscow's involvement." Speaking to ABC News, Power said it "has all the tell-tale signs of what we saw in Crimea. It's professional, it's coordinated. There's nothing grass roots seeming about it."