Kathleen Sebelius: Obamacare Rollout Was "Flat Out Wrong"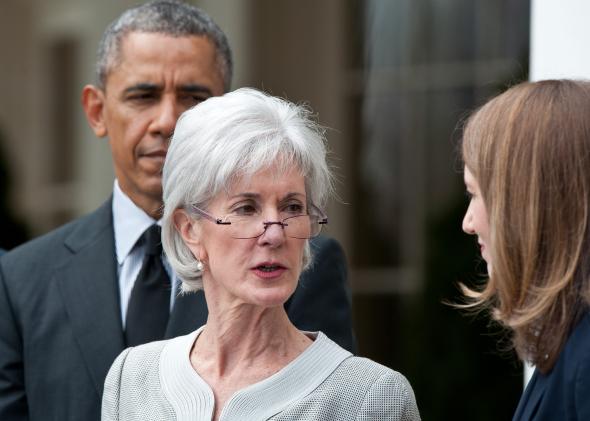 Former Health and Human Services secretary Kathleen Sebelius, who stepped down last week, said that the administration was wrong to think that the new health care law's online system would be ready by Oct. 1. In the first interview since she stepped down from her post on Tuesday, Sebelius told NBC's Andrea Mitchell that "clearly, the estimates that it was ready to go Oct. 1 was just flat out wrong."
Sebelius, who insisted leaving the post was her idea, added that "the launch of the website was terribly flawed and terribly difficult … Could we have used more time and testing? You bet." The former secretary also characterized the eight weeks in which the site was not working properly as a low point in her tenure. Considering enrollment has now increased to 7.5 million people, Sebelius also took time to defend the law and its impact. "The great thing is, there's a market behind the site that works even better," she said. "People have competitive choices and real information for the first time ever in this insurance market."
Advertisement

Meanwhile, Republicans made it clear in the Sunday talk shows that the confirmation hearings for Sebelius' replacement will give them a new opportunity to raise questions about the health-care reform as a whole. Sylvia Mathews Burwell received a 96-0 confirmation vote last year for her current job as director of the White House Office of Management and Budget. But things aren't likely to be so easy this time around as she seeks confirmation to be the successor to Sebelius, notes Reuters. "There is no doubt she was a good choice for OMB. That does not necessarily make her a good choice for HHS," Republican Senator Tim Scott of South Carolina said on Fox News. "Will the next secretary have Americans' (interests) first, or will they have the administration's policies and try to carry the water for the president?"
TODAY IN SLATE
Medical Examiner
Here's Where We Stand With Ebola
Even experienced international disaster responders are shocked at how bad it's gotten.