Pro-Russian Militants Occupy Police Stations in Eastern Ukraine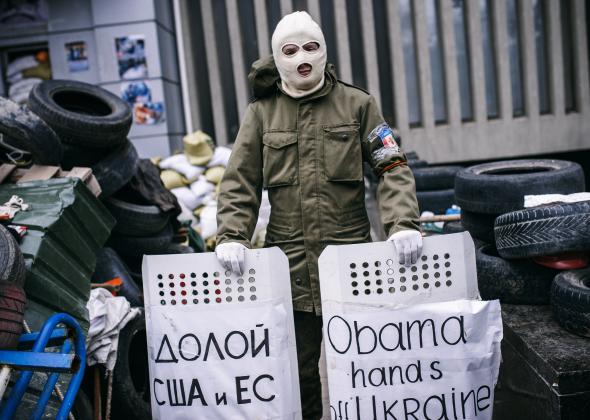 Armed pro-Russian militants occupied police headquarters in three key eastern Ukrainian cities on Saturday, marking an escalation of the deadlock that has emerged in the region close to the Russian border as protesters have barricaded themselves inside government buildings in several cities. In the Donetsk, men wearing uniforms of the recently disbanded Ukrainian riot police stormed the police headquarters, reports the Associated Press. That came shortly after gunmen seized police headquarters in Slovyansk, which is around 55 miles away. The police station in the nearby town of Krasnyi Lyman was also occupied, according to Bloomberg.
In Slovyansk, officials say the gunmen seized lots of weapons from the building before replacing the Ukrainian flag with Russia's flag. The men inside allegedly demanded a referendum on separating from Ukraine and possibly joining Russia, a request that has been repeatedly made in eastern Ukraine since last month's Crimea referendum. "The swiftness and scope of today's attacks … suggest that the operation was planned well in advance and had support from within the ranks of Ukraine's government, including its law enforcement agencies," writes Mark Rachkevych in the Kyiv Post.
No one can say with any certainty who the gunmen are but reporters on the ground say those who carried out the takeovers appeared to be a mixture of locals and out-of-towners. At the very least it seems some local residents helped the militants build barricades, reports Reuters. But the BBC hears word from a local journalist that there were some people who appeared to be new to the area because they didn't even know the name of the mayor. The BBC's David Stern writes that the militants in Donetsk claim they are working alongside the group in Slovyansk, giving a pretty clear indication the takeovers were meticulously planned and executed.
Russia has vehemently denied Kiev's accusations that it is behind the unrest. The Russian Foreign Ministry published a statement Saturday saying there was no evidence to link Moscow to the situation in eastern Ukraine, reports the Voice of Russia. At the same time, the ministry urged the Ukrainian authorities to avoid violence. Reuters points out that the occupations could prove to be a "flashpoint" because if Ukraine hurts or kills any militants, the Kremlin could make good on its threat to intervene in order to aid the local Russian-speaking population.