Pro-Russian Protesters Storm Government Buildings in Three Eastern Ukraine Cities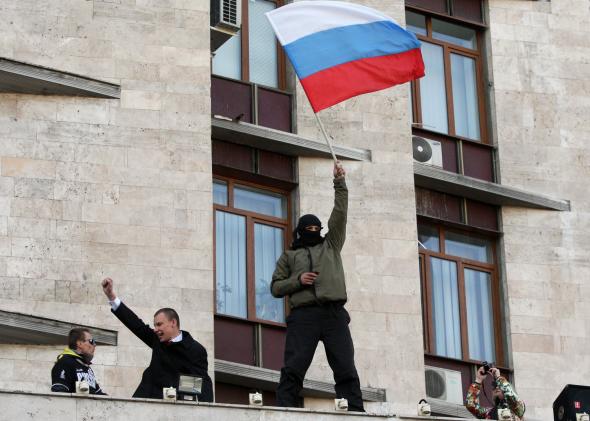 Hundreds of pro-Russian demonstrators took to the streets in the three eastern Ukrainian cities of Donetsk, Lugansk, and Kharkov and stormed government buildings, according to RT. The protesters in Donestk went one step further, and demanded a referendum to join Russia. Protesters are also demanding the release of riot police accused of killing protesters in Kiev, reports CNN. Ukraine's government immediately pointed the finger at Moscow, saying Russian President Vladimir Putin was the one responsible for orchestrating the demonstrations, reports Reuters. Interior Minister Arsen Avakov vowed that police would restore order without resorting to violence and blamed Ukraine's ousted president Viktor Yanukovich of conspiring with Putin.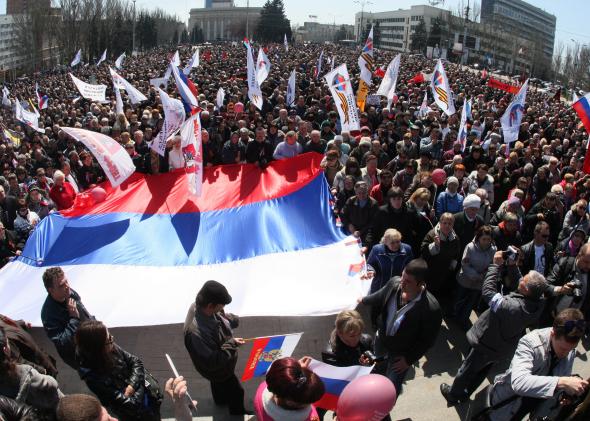 "Putin and Yanukovich ordered and paid for the latest wave of separatist disorder in the east of the country. The people who have gathered are not many but they are very aggressive," Avakov wrote on his Facebook page. The Wall Street Journal highlights that this unrest, which it calls the most serious in the past month, comes after repeated Russian warnings that Moscow "is prepared to intervene to protect Russian speakers in Ukraine's east and south from alleged threats of attack by Ukrainian nationalists."

Although pro-Russian protests have been common in eastern Ukraine following Yanukovich's ouster, the seizure of the government buildings and calls for a referendum appear to raise the stakes. Ukraine's interim President Oleksandr Turchynov canceled a planned trip to Lithuania in order to deal with the unrest, which a senior official described as "a repeat of the Crimean scenario," according to the Kyiv Post. In Donetsk alone some 1,000 people took part in storming the regional administration building, from where they hung a Russian flag from a second floor balcony.
Meanwhile, Russia and Ukraine also appeared to be getting closer to a new gas war over the weekend after interim Prime Minister Arseniy Yatsenyuk told the country's cabinet that Kiev would not pay for gas at the higher price Russia is now demanding, reports the Guardian. Last week, Russia almost doubled the price of gas for Ukraine, taking it from $268 per 1,000 cubic meters to $485.50.