Officer Filmed Violently Blind-Siding Woman During Arizona Riot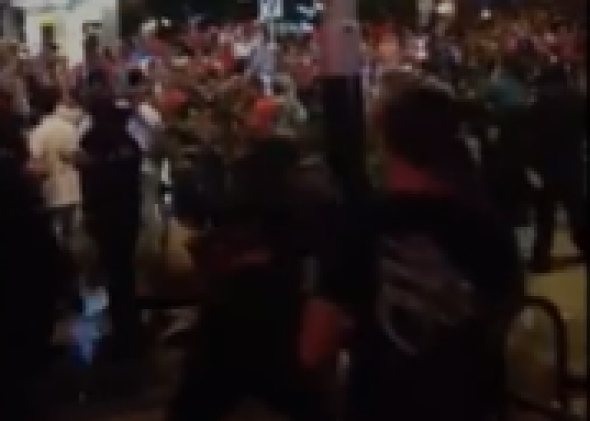 "We've been training for this event for several months now," Tucson police Sgt. Pete Dugan said Sunday in praise of his department's handling of the large, unruly crowd that gathered downtown the previous night following the University of Arizona men's basketball team's overtime loss in the NCAA tournament. "It got a little rowdy and it got a little violent, but no businesses suffered any damage."
It's unclear which category—"rowdy or violent"—Dugan would label this blind-side body check leveled upon an unsuspecting woman by one of his department's riot gear-clad police officers (right around the 21-second mark):
Tuscon police say the video, which was published by the Arizona Daily Star over the weekend, is currently being reviewed by the department's internal affairs division. To be fair, it's a relatively short clip without a whole lot of context. Regardless, it's mighty difficult to construct a narrative that required the police officer to respond with that degree of force. Here's how Phoebe Landolt, the person who shot the video, summed things up in an interview with the local paper: "These girls had been trying to get to their car. The girl is on her phone not paying attention and this cop came out of nowhere and just leveled her," Landolt said. "After that everyone just started yelling and she started crying."
Police arrested a total of 15 people—9 of which were students—during the night, which saw fans reportedly hurl beer bottles and firecrackers at officers. Officers responded with pepper spray and pepper balls—more than a few of which hit this guy, Alexander Davidson, who was among those taken into custody: