White House: Russia Faces Sanctions in "Coming Days"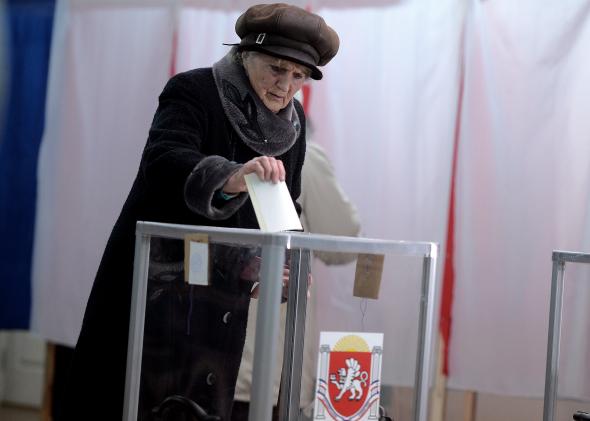 As voters in Crimea headed to the polls Sunday for a referendum that is widely expected to favor uniting with Russia, President Obama's administration acknowledged it was powerless to stop what it has described as a sham vote. "We are putting as much pressure on the Russians as we can to do the right thing," White House senior adviser Dan Pfeiffer told NBC's Meet the Press. "You can expect sanctions designations in the coming days." He also emphasized the United States would not recognize the results of the referendum but did not give a straight answer when asked what the White House might do if Russian troops move outside of the Crimea region.
"We're looking at all ways of assistance," Pfeiffer said, also refusing to give a straight answer on whether Washington might provide military aid to Ukraine's government.
Senators from both sides of the aisle went on the Sunday talk shows to decry the referendum with some Republicans accusing President Obama of weakness in the face of crisis. Sen. John McCain told CNN that the United States needs to "have a fundamental reassessment of our relationship with Vladimir Putin." He also called on the White House to provide military assistance to the Ukrainian government. "We need to give a long-term military assistance plan, because God knows what Vladimir Putin will do next," McCain said. Meanwhile, Senate Majority Whip Dick Durbin dismissed the referendum as a "Soviet-style election—we know what the ending is going to be." For his part, Sen. Chris Murphy, a Democrat from Connecticut, said the United States must offer economic assistance and non-lethal military aid to Ukraine, reports Bloomberg.