Jimmy Fallon Takes a Dip in Icy Lake Michigan for "Polar Plunge"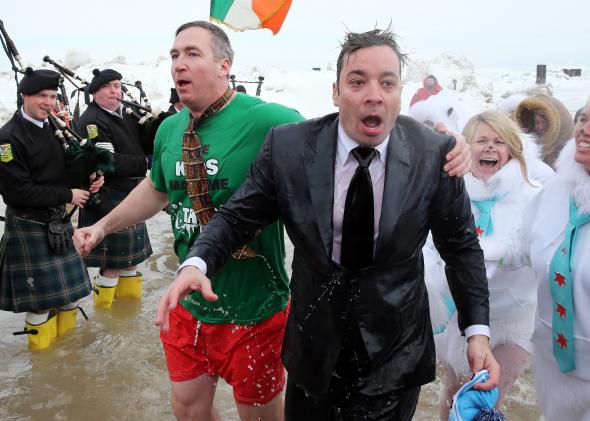 Jimmy Fallon made good on his promise Sunday morning and he took a very quick dip in icy Lake Michigan dressed in a full suit and tie. Earlier in the week The Tonight Show host had vowed to join Chicago Mayor Rahm Emanuel for the yearly tradition known as the Polar Plunge in exchange for a promise for the mayor to appear on his show. And it was a particularly cold day for a dip in Lake Michigan. In fact, the lake was so icy that chunks had to be chipped away to make room for the approximately 3,000 plungers taking part in the charity event, reports the local ABC affiliate. Temperatures barely reached into the teens and wind chills were even colder, reports the local NBC affiliate.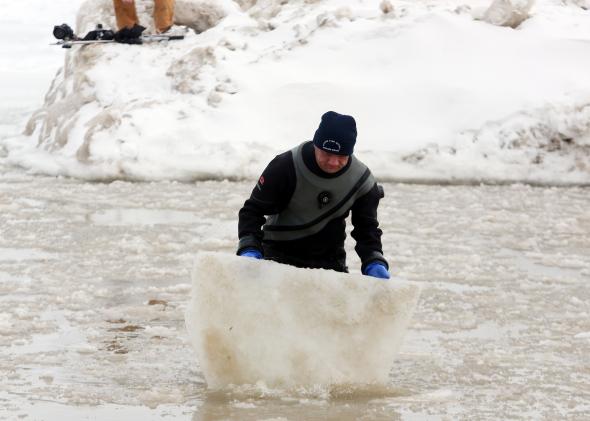 "If you hear a scream like a little girl's ... know that Jimmy Fallon is swimming in Lake Michigan," Fallon told the crowd before going in the water, reports the Associated Press. Fallon then proceeded got in the water alongside Emanuel, who had promised to take the plunge if the city's children read two million books, while bagpipe players provided the background music. The annual event raises money for Special Olympics Chicago.Fallon posted a photo on Instagram after he was done: "Officially PLUNGED!!!!! Thank you Chicago!!! Thank you Mayor. #polarplunge #coldneverbotheredmeanyway#frozen"