NFL Probe Finds the Dolphins Bullying Scandal Was Even Bigger Than We Thought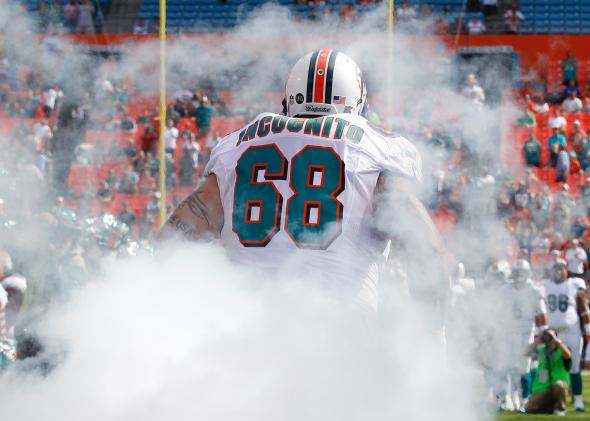 The investigator the NFL tasked with getting to the bottom of the Miami Dolphins' bullying scandal is out with his final report this morning, and its conclusion leaves little doubt about who it thinks was to blame for Jonathan Martin's unexpected departure from the team this past fall (emphasis mine):

"The Report concludes that three starters on the Dolphins offensive line, Richie Incognito, John Jerry and Mike Pouncey, engaged in a pattern of harassment directed at not only Jonathan Martin, but also another young Dolphins offensive lineman and an assistant trainer. The Report finds that the assistant trainer repeatedly was the object of racial slurs and other racially derogatory language; that the other offensive lineman was subjected to homophobic name-calling and improper physical touching; and that Martin was taunted on a persistent basis with sexually explicit remarks about his sister and his mother and at times ridiculed with racial insults and other offensive comments."
For those who need a refresher: Martin, a second-year player out of Stanford, went AWOL from the team in October after he was the target of what at the time was described as a "prank" in the team's cafeteria. Soon after a series of increasingly serious allegations emerged suggesting that what happened in the lunchroom was simply the last straw for Martin, who later suggested he was the target of prolonged bullying at the hands of Incognito, a nine-year veteran. After briefly dismissing the allegations as "speculation," the team suspended Incognito for the final eight games of the season while the league investigated. (The team's decision came roughly around the time that it was revealed publicly that Incognito had left a racial slur-filled voice mail for Martin calling him a "half-n-----," one in reported string of such messages.)
Advertisement

Slate's Emily Bazelon will have more on the report shortly. In the meantime, you can check out the full report for yourself below:
TODAY IN SLATE
Politics
Smash and Grab
Will competitive Senate contests in Kansas and South Dakota lead to more late-breaking races in future elections?