Rand Paul: "Women Are Winning" the War on Women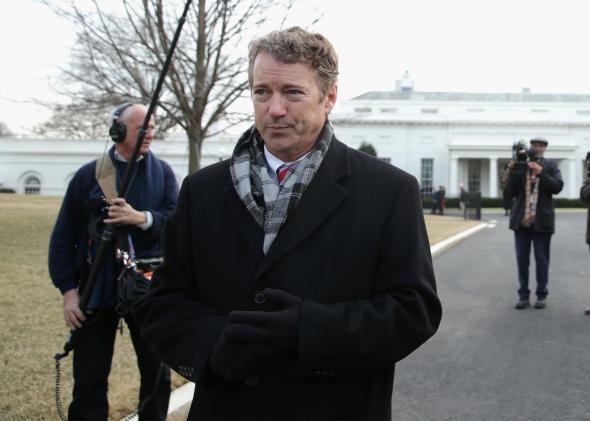 Sen. Rand Paul suggested that even if there is such a thing as a war on women, it's all pretty irrelevant because women are doing quite well for themselves and "some of the victimology and all of this other stuff is trumped up." Talking to Candy Crowley on CNN, Paul insists Democrats will fail in their efforts to try to frame Republicans as anti-women.
"The whole thing of the 'war on women,' I sort of laughingly say, 'Yeah, there might have been—but the women are winning it,'" the Republican senator from Kentucky said. "Over half of the young people in medical school and dental school are women, law school the same way. I think women are doing very well, and I'm proud of how far we've come." He then went on to add that "I think some of the victimology and all of this other stuff is trumped up. We don't get to any good policy by playing some sort of charade that somehow one party doesn't care about women or one party is not in favor of women advancing, or other people advancing."
Advertisement

Paul made the comments when Crowley asked about former presidential candidate Mike Huckabee's controversial comments in which he said that "if the Democrats want to insult the women of America by making them believe that they are helpless without Uncle Sugar coming in and providing them a prescription each month for birth control because they cannot control their libido or their reproductive system without the help of the government, then so be it." Although Paul agreed that Republicans may have to moderate "words and tone," as Crowley put it, he also said that "a lot of the debates we have in Washington and in the public, generally, are dumbed down."
TODAY IN SLATE
Politics
Smash and Grab
Will competitive Senate contests in Kansas and South Dakota lead to more late-breaking races in future elections?