The Iconic Image of This Year's MLB Playoffs Is Of an Outfielder's Legs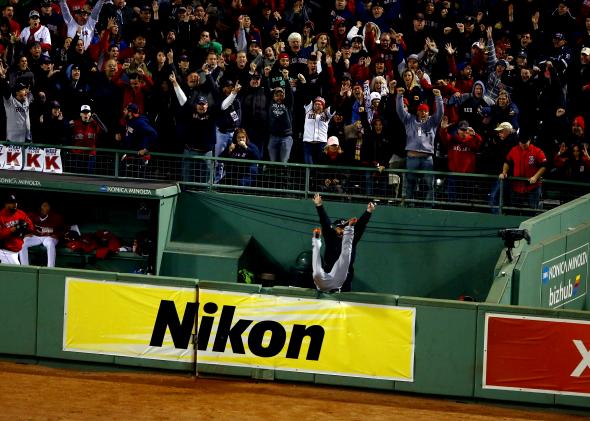 Trailing the Detroit Tigers 5-1 in the bottom of the eighth inning in last night's Game 2 of the American League Championship Series, Red Sox slugger David Ortiz stepped to the plate with two outs and the bases loaded. "He's never homered against [Joaquín] Benoit in his career," announcer Joe Buck told the TV audience as the Tigers closer prepared to deliver his first pitch. By now you probably know what happened next. If you don't, you can guess. Grand slam. Tie game.

And with that, Ortiz became the first MLB player to hit a grand slam to tie a postseason game in the eighth inning or later. The Red Sox would go on to win the ballgame, 6-5, in the bottom of the ninth on Jarrod Saltalamacchia's single to left. But as you undoubtedly noticed in the video above, the iconic image of the game and—as of now, anyway—the 2013 playoffs features neither man. The thrill of victory means little without the agony of defeat. And for that, the baseball gods give us Torii Hunter, the Tigers outfielder with more than a few superhuman, home run-robbing catches on his resume. Or, more specifically, they give us Torii Hunter's legs, flipped over his head, spread to the sides in the emotional inverse of the victory pose of the Boston faithful.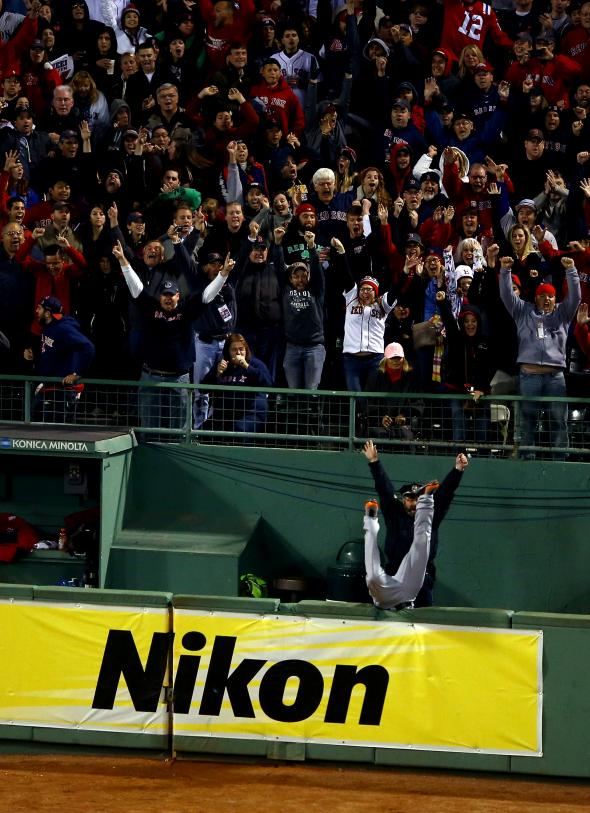 For those wondering: Yes, if Hunter had caught the ball as he flipped over the fence it would have counted as the inning's third and final out. (If there had been fewer than two outs before he made the catch, however, the baserunners would have all been awarded a base because Hunter would have carried the ball into dead-ball territory after recording the out.)

This post has been updated for clarity.