Bill Clinton: GOP "Begging For America to Fail"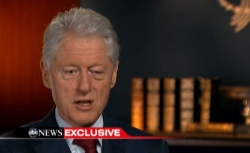 Former president Bill Clinton tells ABC's This Week that he is shocked at how one of the two major parties in the United States seems to be rooting for something bad to happen for the country just so its members can score political points by rooting against President Obama's health care reform. "I've never seen a time—can you remember a time in your lifetime when a major political party was just sitting around, begging for America to fail?" Clinton asked George Stephanopoulos.
In the interview that was recorded Thursday, Clinton expressed confidence that while Americans may be opposed to the Affordable Care Act now, that feeling won't last. "Within the next several years, this'll be like Medicare and Medicaid. And it'll be a normal part of our life. And people will be glad it's there," Clinton said.
When Stephanopoulos kept pressing on whether President Obama shouldn't at least sit down and talk with Republicans, Clinton said there was nothing really to talk about, particularly considering how some of the reported House GOP proposals to raise the debt ceiling are "chilling" and "almost spiteful."
"If I were the president, I wouldn't negotiate over these draconian cuts that are gonna take food off the table of low-income working people, while they leave all the agricultural subsidies in for high-income farmers and everything else. I just think it's—it's chilling to me," Clinton said. "It seems almost spiteful."