George Zimmerman Taken Into Police Custody (Again) After (Another) Incident Allegedly "Involving a Gun"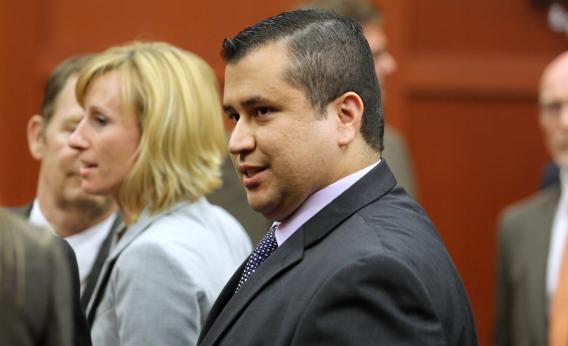 Original Post: Let's tread carefully, but here's a developing story out of Orlando that is sure to generate some national headlines: CBS affiliate WKMG reports that George Zimmerman was taken into police custody today after an "incident involving a gun with another person":

Lake Mary police say they were called to a house on Sprucewood Road Monday afternoon after a report that Zimmerman was involved in an altercation with another person with a threat involved. Lake Mary police spokesman Zach Hudson said police are "trying to determine what exactly happened."
CNN has confirmed that Zimmerman is now in custody, but so far doesn't have any more details. ABC News, likewise has confirmed the news, describing it only as a "domestic incident with a gun." So for now, that's all we know. (It's important to remember that being taken into police custody is not the same as being arrested.) We'll update with more info when we have it.
Update 3:06 p.m.: The Associated Press says that Zimmerman's wife, Shellie, who is seeking a divorce, was the one who called the police. Police say that she alleges that George Zimmerman threatened her and her father.
"There was some kind of a domestic, we know that with his wife and father-in-law. Apparently there were some weapons involved and threats," the deputy police chief in Lake Mary told ABC News. ...
Her attorney told ABC News that George pulled a knife on her today after she discovered a firearm in the house they shared. He then pulled a gun on her and her father after a verbal altercation went bad, according to attorney Kelly Sims.
Update 4:55 p.m.: Here's the audio of Shellie Zimmerman's 911 call.
Update 5:28 p.m.: The Orlando Sentinel reports that Shellie Zimmerman and her father don't plan to press charges. "They both have declined to press charges against George," Lake Mary Police chief Steve Bracknell told the paper. "We have no victim, no crime."