Dennis Rodman Wants to Throw Kim Jong-Un a Basketball-Themed Birthday Bash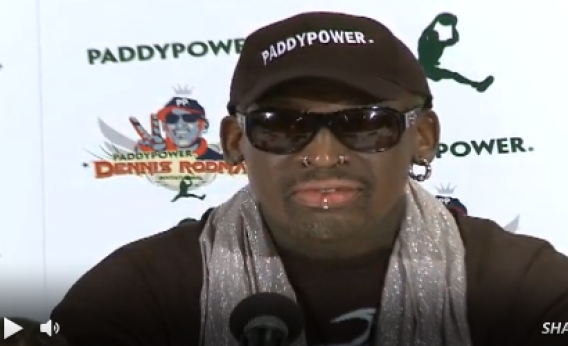 Dennis Rodman continues to show off his impressive knack for worming his way into the news cycle following his most recent trip to North Korea. At a bizarre-for-anyone-but-him press conference this morning, Rodman announced plans to help train the North Korean Olympic basketball team, and to organize a game featuring a dozen former NBA players in Pyongyang early next year for Kim Jong-un's birthday.
The announcement from the 52-year-old former NBA great came one day after he apparently revealed the name of Kim Jong-un's baby daughter, Ju Ae, in an interview with the Guardian. (Rodman also claimed the North Korean dictator was a "good dad," and spoke of the "relaxing time by the sea" he had with the Kims.) North Korean watchers were already fairly certain that Kim and his wife, Ri Sol Ju, had a child, although Rodman's account appears to be the closest the world's come to official confirmation.

Rodman, who's five-day trip was sponsored by an Irish betting firm, launched his post-Pyongyang PR blitz on Saturday when he landed in Beijing, unleashing what the New York Times called "an expletive-laced tirade" when pressed about asking for the release of an American missionary currently being held in a North Korean prison. "That's not my job to ask about Kenneth Bae," Rodman told reporters who met him at the airport. "Ask Obama about that. Ask Hillary Clinton. Ask those assholes." (It's unclear if Rodman thinks Clinton is still secretary of state, or if he's really just not a fan.)