Lawmakers Split on Whether to Suspend U.S. Aid to Egypt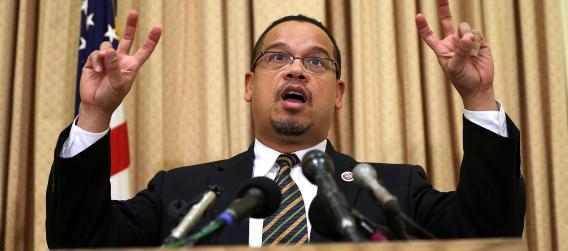 Several lawmakers went on the Sunday talk shows to say it's about time the United States suspend military and economic aid to Egypt as the military rulers continue the violent crackdown on protesters. But some urged caution, saying that a knee-jerk reaction could cause more trouble in the future.
Rep. Keith Ellison, a Democrat and the first Muslim elected to Congress, told ABC News he would cut off aid "but engage in intense diplomacy in Egypt." Several Republicans agreed with that assessment. Sen. John McCain had earlier advocated keeping the aid, but has now changed his mind. McCain told CNN that at first he wanted to give the military leaders "an opportunity to do the right after the coup" but following the violent crackdown all bets are off.
Peter King warned that cutting off aid could decrease U.S. influence over Egypt's interim government. "The fact is, there's no good guys there," King told Fox News, according to the Associated Press. "But of the two, I think there is more opportunity to protect American interests if we work with the military and continue our relationship with the military."
Others however agreed with McCain that by failing to even threaten to cut aid, the United States really has no influence. On NBC's Meet the Press Republican Sen. Kelly Ayotte said that aid "must be suspended because unfortunately I think that the military's gotten the impression … that whatever they do we will continue our aid," Ayotte said. For his part, Democratic Sen. Jack Reed tried to play a middle ground, saying that aid should be suspended but insisting that any legislation must include "a national security waiver because we have to give the president not only the responsibility to deal with the government of Egypt but also flexibility."
Meanwhile, Sen. Bob Corker told ABC News that he had "no doubt" the violent crackdown would lead to a suspension of aid. "I think it's, at the same time, a time for us to recalibrate and look at what is our national interest," the Republican from Tennessee said. Rep. Eliot Engel, the top Democrat on the House Foreign Affairs Committee, however, urged caution, saying no one should be rushing to cut aid. "Obviously, we cannot let what's been happening just happen, but I think we have to be careful and not cut off our nose to spite our face," Engel said. Sen. Richard Blumenthal, a Democrat from Connecticut, told Fox News that aid should continue but on a "conditional" basis.
The United States gives around $1.55 billion in aid to Egypt a year, with around $1.3 billion going to the military. Cutting off aid would not be a simple matter and could end up forcing U.S. taxpayers to foot the bill for equipment Egypt has already ordered on credit, points out Reuters.
Watch footage of the interviews after the jump.