Justice Alito Just Wrote the Next Chapter in One of the Best RadioLab Episodes Ever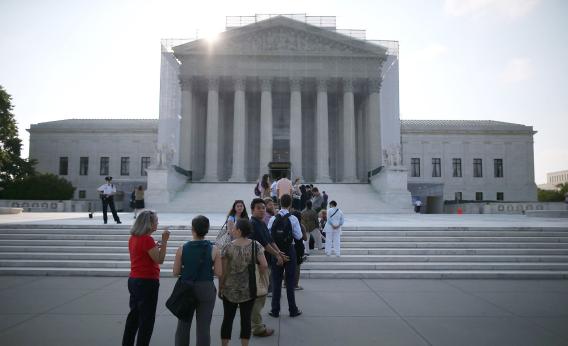 In that decision, the high court handed a victory to Melanie and Matt Capobianco, the aforementioned couple who had taken custody of a newborn with the blessing of her biological mother only to have a South Carolina court return the child to her biological father roughly two years later. The state's decision garnered national attention, with pictures of the the smiling toddler with her adoptive parents splashed across newspapers and featured on CNN and in the Weekly Standard during the summer of 2012. It was more than your run-of-the-mill custody battle, however. Much more. (And not just because it was also the subject of this awesome Slate piece, which itself was the basis for one of the most fascinating RadioLab episodes I've ever heard.)

I won't be able to do the story the justice it deserves in a short blog post, but allow me to offer something of a refresher course. The decision to return the girl, Veronica, to her biologial father, Dusten Brown, was based on the Indian Child Welfare Act, which was, before this case anyway, a relatively little known federal law that had been written in the 1970s to curb some rather uncomfortable (to put it mildly) practices that caused many Native American children to be separated from their families. It allows a non-custodial parent to block an adoption by non-Indians, something Brown first sought to do about four months after his daughter had begun living with the Capobiancos.
(RadioLab listeners will remember that the story is a good deal more complicated than that: Brown, a soldier, was in the process of deploying overseas and claimed that he had no idea that his daughter was going to be raised by anyone but her birth mother. Nonetheless, he renounced his parental rights before Veronica was born.)

Making things even trickier than they already were in the eyes of some is the fact that Veronica is only 1.2 percent, or 3/256, Cherokee. Nonetheless, under a strict reading of the law, the state courts ruled that Brown retained his parental rights. Here's how Marcia Zug, an associated law professor at the University of South Carolina, summed things up last summer when writing about the case for Slate:
ICWA is a federal statute that regulates the custody and placement of American Indian children. Brown is an enrolled member of the Cherokee tribe, and Veronica is also eligible for membership. As a result, ICWA applies to Veronica's adoption, supersedes state law, and mandates her reunification with Brown. Many Native American law scholars and advocates believe that ICWA is the most important American Indian law ever enacted, but its application in this case has caused fury. More than 20,000 people have signed the "Save Veronica" petition, which calls for an amendment to ICWA to prevent the return of children like Veronica. However, ICWA is no "loophole." The act specifically contemplated situations like Veronica's, and in this case, ICWA operated exactly as it was intended to.
Five of the Supreme Court justices saw things differently. The majority opinion, penned by Justice Alito, concludes that the law "does not apply when, as here, the relevant parent never had custody of the child."
"Under the State Supreme Court's reading, a biological Indian father could abandon his child in utero and refuse any support for the birth mother ... and then could play his ICWA trump card at the eleventh hour to override the mother's decision and the child's best interests," Alito wrote. "If this were possible, many prospective adoptive parents would surely pause before adopting any child who might possibly qualify as an Indian under the ICWA."
As Reuters explains, however, today's 5-4 decision doesn't end the fight over Baby Veronica or ICWA. The high court did not grant an adoption to the Capobiancos—instead only throwing out the lower court ruling that awarded custody to Brown. (You can read the full decision here.) The case will now go back to the S.C. state courts for further proceedings. In the meantime, you can revisit the RadioLab episode below:

This post has been updated for clarity.