Obama Taps a Rare Ex-Bush Official Democrats Have a Reason to Love (Or At Least Like)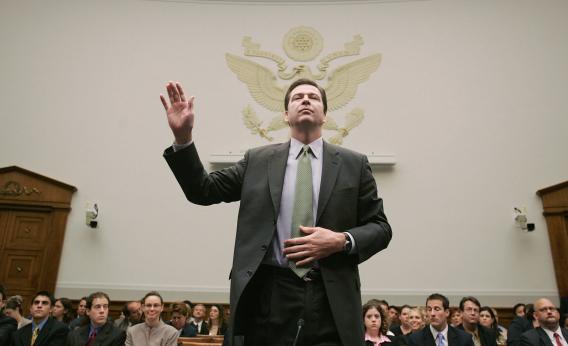 President Obama plans to nominate James B. Comey, a former senior Justice Department in the George W. Bush administration, to become the new director of the FBI, according to unnamed sources who spoke to NPR and a slew of other outlets. The exact timing of the nomination remains unclear but the current director, Robert Mueller, must by law be out the door by September when his term ends, so an official announcement likely isn't too far off. The bipartisan nature of the pick is expected to help speed Comey's confirmation along, although as Chuck Hagel learned earlier this year such rides are not always smooth ones.
While "former Bush official" is rarely a descriptor welcomed by Democrats on Capitol Hill, the nomination is expected to be well received by Obama's allies in the Senate. That's largely because Comey's career in the public sector—as a U.S. attorney, and as deputy U.S. attorney general—has come to be defined by his hospital-room clash with Bush's inner circle. The Washington Post with the refresher course:

Comey was famously involved in a 2004 hospital-room confrontation with White House counsel Alberto Gonzales and the president's chief of staff, Andrew H. Card Jr. The two White House officials were attempting to persuade Attorney General John D. Ashcroft, who was recovering from emergency surgery to remove his gallbladder, to reauthorize a controversial warrantless domestic eavesdropping program.
Comey, who was acting attorney general in Ashcroft's absence, had refused to agree to extend the program. When he learned that the White House was attempting to go around him and get the ill Ashcroft to sign off on an extension, Comey rushed to George Washington University Medical Center, arriving just before Gonzales and Card.
Comey explained to Ashcroft what was happening and, when the White House officials arrived, the attorney general raised himself up and said he never should have authorized the program. He gestured at Comey and said, "There is the attorney general," according to an account by former Washington Post reporter Barton Gellman.
Comey came close to quitting over the whole thing, even going as far as to write (but never send) a resignation letter to the president, which you can read below:
Senate Democrats will no doubt be eager to relive Comey's greatest anti-Bush hits (he also expressed his opposition to approval of enhanced interrogation techniques by the CIA) at his confirmation hearings, especially given the alternative future that would await them if Obama were to tap his second choice for the position, Lisa Monaco, who oversaw national security issues at the Justice Department during the attacks in Benghazi.