What to Expect From Obama's Big Counterterrorism Speech Today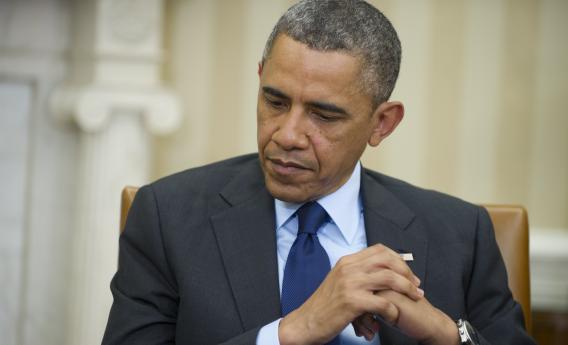 President Obama is delivering his first major speech on counterterrorism of his second term this afternoon at the National Defense University in Washington, D.C., remarks aimed at fulfilling his State of the Union promise to make elements of some of his controversial polices more transparent. The speech comes one day after his administration publicly acknowledged for the first time that it has killed four Americans in drone strikes overseas as part of counterterrorism operations since 2009.

You can watch his remarks live below once they begin (at around 2 p.m. ET) but, this being Washington, we already have the broad strokes of what Obama will say. In short: Look for the president to promise to limit the use of unmanned drone strikes in the future, and to—again—push to close down Guantanamo. (More details below the video).

A few more details as laid out by White House staff on background to a number of reporters.

President Obama plans to open a new phase in the nation's long struggle with terrorism on Thursday by restricting the use of unmanned drone strikes that have been at the heart of his national security strategy and shifting control of them away from the C.I.A. to the military. ... A new classified policy guidance signed by Mr. Obama will sharply curtail the instances when unmanned aircraft can be used to attack in places that are not overt war zones, countries like Pakistan, Yemen and Somalia. The rules will impose the same standard for strikes on foreign enemies now used only for American citizens deemed to be terrorists. ...
The standard could signal an end to "signature strikes," or attacks on groups of unknown men based only on their presumed status as members of Al Qaeda or some other enemy group — an approach that administration critics say has resulted in many civilian casualties. In effect, this appears to be a step away from the less restricted use of force allowed in war zones and toward the more limited use of force for self-defense allowed outside of armed conflict.
The Obama administration is set to restart transfers of detainees from Guantanamo Bay, Cuba, U.S. officials said, kick-starting a long-stalled drive to close the prison. In a speech Thursday, President Barack Obama will reassert his case that closing Guantanamo is crucial to U.S. counterterrorism goals. While he isn't planning to detail how to speed up transfers from the prison, officials said the president in coming weeks plans to lift the administration's prohibition on sending detainees to Yemen. ...
The 2 p.m. address at National Defense University, at Fort McNair in D.C., is long – nearly an hour – and has been in the works since the State of the Union address. The speech blends Obama's experience as wartime commander-in-chief with his instincts as a constitutional law professor. The White House sees the speech as part of moving America into a post-war era – an effort at becoming more transparent, and at having an honest conversation about issues that have drawn criticism. Advisers who have personally discussed these policies with Obama tell Playbook that he thinks the American people need to understand them if they're going to support them. If the government isn't talking about its drone policy, the vacuum is filled by critics like Sen. Rand Paul.
The Slate team will have plenty more analysis of the speech shortly after it wraps up.