The Boston Carjacking Victim's Car is Totaled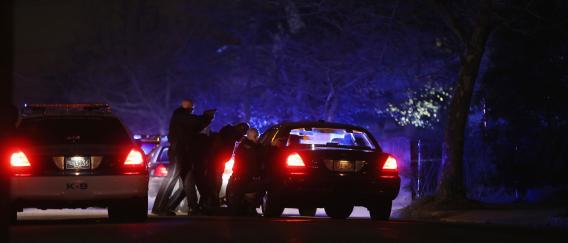 "Danny," the Boston bombing suspects' carjacking victim, gave his first TV interview to CBS News on Tuesday night. As with his previous interview to the Boston Globe, "Danny" has chosen to keep his full Chinese name and other identifying features hidden.
With his face in shadows and voice altered, the victim told CBS his story, the basics of which are now well-known. Tamerlan Tsarnaev jumped into Danny's Mercedes, gun in hand, while the victim was pulled over to the side of the road to send a text. What followed was a harrowing journey through Boston-area streets with both bombing suspects. The ordeal ended for Danny when, guarded only by Tamerlan, he noticed the older brother was distracted by trying to work the car's GPS. Danny fled to another gas station and got the clerk to call 911. Here's what he told CBS:
"I was counting," Danny said. "I was counting. I was just, 'one two, three, four.' And I just do it. And I did it. I can feel Tamerlan trying to grab me ... I was just running as fast as I can and I never look back."
Danny's car, by the way, was totaled after sustaining 32 bullet holes in the Watertown shootout that killed Tamerlan and led to a day-long manhunt for Dzhokhar. Danny was a month-and-a-half into his lease.
Many are crediting "Danny" for providing the information that, eventually, led to law enforcement finding the suspects. After his escape, he informed police that his car's location could be tracked both by his iPhone, still in the car, and his Mercedes's own satellite system. As he did in the Globe story, he has declined to call himself a hero, or give himself much credit at all for his actions: "What I was doing was trying to save myself," he said. "The police, they are the hero. They exchange gunfire with the bad guys. I think they are the heroes."