Updates: Dzhokhar's Friends Charged With Coverup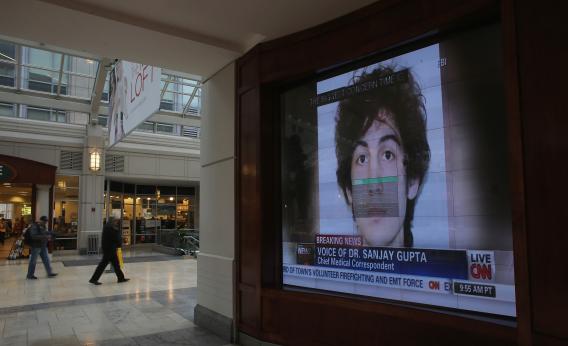 UPDATE: We now have more info about the three suspects who have been taken into custody and charged today in connection with the Boston Marathon bombings: Two of the suspects, Azamat Tazhayakov and Dias Kadyrbayev, who were in the United States on student visas from Kazakhstan, have been charged with conspiring to obstruct justice. The third, Robel Phillipos, an American citizen, is charged with making false statements to federal investigators.
According to the criminal complaint made public this afternoon, authorities have accused Tazhayakov and Kadyrbayev of "knowingly destroying, concealing, and covering up tangible objects belonging to Tsarnaev, namely, a laptop and a backpack containing fireworks, with the intent to impede, obstruct, and influence the criminal investigation of the Marathon bombing." The pair, according to police, have "admitted that they agreed to get rid of it after concluding from news reports that Tsarnaev was one of the Boston Marathon bombers."

Original Post: So far, this is all we know for sure. The Boston Police department announced in a short statement posted to Twitter this morning that three "additional suspects" in the Boston bombings are now in custody. In a subsequent tweet, officials stressed that "there is no threat to the public."
From there, we again have to wade into unconfirmed and loosely sourced information from reporters working their contacts within the police department and elsewhere. (A tactic that has proved less than accurate in this story in the past, fwiw.)
The Boston Globe reports that the three suspects are college students who "were connected to" Dzhokhar Tsarnaev at the University of Massachusetts Dartmouth, where he was a student. CBS News, meanwhile, reports that the three—described as Dzokhar's "friends"—were arrested for "harboring or aiding the Tsarnaev brothers after the bombing." Two of them will be charged with conspiracy, obstruction of justice, and making false statements, according to CBS's source(s).

NBC's Pete Williams, who has perhaps the strongest track record of solid scoops from Boston, reports that the suspects are Dzokhar's roommates and have been under FBI surveillance for more than a week. They will be charged with lying to federal investigators for denying they took items from Dzhokhar's dorm, according to Williams' sources. "Now, no one is saying at this point that they have knowledge of the bombing in advance," Williams said on-air. "That's been the big question. We'll probably learn more about the answer to that question later today when these charges are made public."
CNN (again) appears to be the farthest out in front of the official announcement. The network says that two of the three suspects are from Kazakhstan and had been in federal custody on immigration charges prior to today. (The network has also named the two Kazak students, but without official confirmation, we won't identify them here.) They face charges of making false statements to investigators and conspiracy to obstruct justice, according to the network's sources.
Those charges, according to Harvard law professor and high-profile defense attorney Alan Dershowitz, suggest authorities don't believe the suspects were involved with the bombing itself. "If they knew about the bombing, if they were involved in the bombing, the charges would be conspiracy to do the acts for which the other man has already been charged," Dershowitz told CNN. "So it sounds like at this point in time the only evidence they have is actions that took place after the bombing."
For now, obviously, take those reports with the skepticism they deserve. We'll continue to update with more as this story develops.