Watch Obama Be Funnier Than Conan at White House Correspondents' Dinner 2013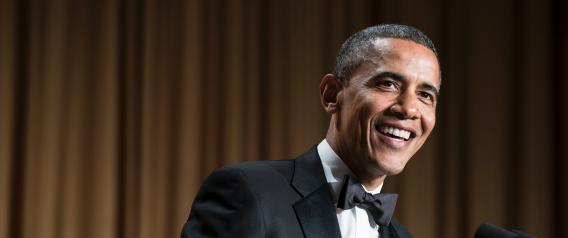 It began with a funny House of Cards spoof, ended with lame jokes by Conan O'Brien. And in the middle, President Obama got some bangs. The president was undoubtedly funnier than the comedian this time around at the White House Correspondents' Dinner 2013, which was notable for being the first time celebrity cable channel E! provided live coverage from the Washington Hilton's red carpet.
Obama used the opportunity to poke fun at some people in Washington he doesn't like so much. But first, as is tradition, he had to make fun of himself, although he did wonder whether it was possible to be brought down a peg after four-and-a-half years at the White House. "I'm not the strapping young Muslim Socialist that I used to be," Obama said. The president said he was ready to try new things and then showed a montage of photographs showing him sporting bangs.
Politico gets a bit Freudian in writing about the president's speech, saying the dinner gives Obama a chance to "take shots at those things in Washington that rub him the wrong way … all under the guise of 'humor.'" To that end, he wasted no time making fun of Senate Minority Leader Mitch McConnell in what was likely his funniest line of the night. "Some folks still don't think I spend enough time with Congress. 'Why don't you get a drink with Mitch McConnell?' they ask," Obama said. "Really? Why don't you get a drink with Mitch McConnell?"
O'Brien was the headliner of the night but the laughs were few and far between. Among his highlights: He made fun of George Stephanopoulos for being short, mocked Reince Priebus for his name, and even made fun of the Hilton. It all ended with a lookalikes slideshow of Washington insiders.
Watch Kevin Spacey hoarding Correspondents' Dinner tickets, President Obama's speech, and Conan O'Brien's routine after the jump. But remember, Sarah Palin would rather you wouldn't: "That #WHCD was pathetic," Palin wrote on Twitter. "The rest of America is out there working our asses off while these DC assclowns throw themselves a #nerdprom."