Hagel: Syria Likely Used Chemical Weapons, in Violation of "Every Convention of Warfare"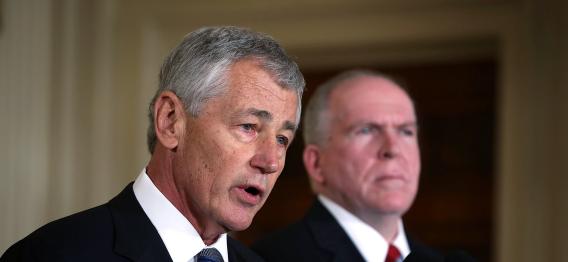 Defense Secretary Chuck Hagel announced on Thursday that U.S. intelligence has confirmed "with some degree of varying confidence" that Syria used chemical weapons, at least on a "small scale." The use of chemical weapons in the ongoing Syrian civil war has long been understood to be President Obama's "red line," which if crossed would likely trigger a new phase of American intervention.

"He says the White House has informed members of Congress that, within the last day, U.S. intelligence concluded with 'some degree of varying confidence' that Syrian President Bashar Assad's regime has used chemical weapons — specifically sarin gas. Hagel says, quote, 'It violates every convention of warfare.'"
Hagel's announcement is something of a reversal from the more skeptical remarks he made only yesterday in response to Israel's claim this week that chemical weapons were in play: "Suspicions are one thing," Hagel told reporters, as USA Today reported, "Evidence is another." He'd asked U.S. officials to investigate Israel's claims independently.

Update 12:20 p.m.: Here's the letter the White House sent to Senate Armed Services Committee Chairman Carl Levin (D-Mich.) on the allegations of chemical weapons use in Syria, via the Washington Post. In it, the administration suggests that "no option is off the table" in terms of its response, but cautions that given the stakes involved they'll need to gather additional information to "provide us with some degree of certainty" and "strengthen our leadership of the international community" before acting.

This post has been updated with additional information.