Barbara Bush on Possible Jeb Run: "We've Had Enough Bushes"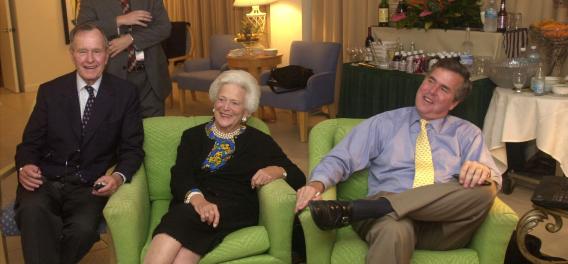 Here's one person who doesn't want Jeb Bush to run for president in 2016: His mother. "We've had enough Bushes," former first lady Barbara Bush told Matt Lauer in a Today interview this morning from the new George W. Bush Presidential Library and Museum in Dallas.
It's not clear from the interview whether Barbara Bush had previously expressed her opinion to her son face-to-face. In any case, sitting with two other generations of women in her family, Barbara Bush made her opinion clear to pretty much everyone, with characteristic bluntness:

"He's by far the best qualified man, but no. I think it's a great country, there are a lot of great families and it's not just four families, or whatever. There are other people out there that are very qualified and we've had enough Bushes. He's the most qualified, but I don't think he'll run."

Before Barbara's answer, Laura Bush gave a much more positive take on a possible Jeb campaign to Lauer: "Sure," she said, "He'd be terrific. He'd be a wonderful president. But who knows?" George W. Bush also seems to think his brother should run. Yesterday, he told ABC News: "He'd be a marvelous candidate if he chooses to do so. He doesn't need my counsel 'cause he knows what it is, which is 'run'." As for a possible Jeb vs. Hillary match-up, the former president said, "It'd be a fantastic photo," adding, "I'm fascinated by all the gossip and stuff that goes on. But the field won't be become clear 'til after the midterms."