Boston Officials Say Tsarnaev Brothers Planned Additional Attacks, but Likely Acted Alone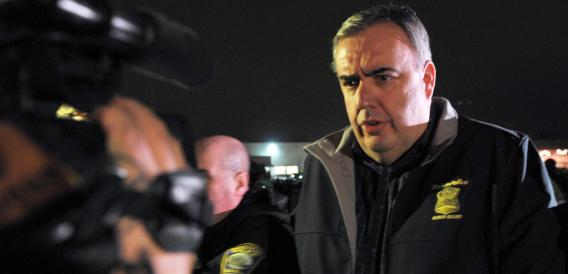 Boston Police Commissioner Ed Davis told CBS News on Sunday that based on the amount of weaponry the Tsarnaev brothers possessed, they were likely planning to carry out additional attacks after the Boston Marathon bombing. "I personally believe they were," Davis said when asked whether the suspects were planning other attacks. "We have reason to believe … they were going to attack other individuals." That belief is in large part based on the sheer amount of weaponry the brothers possessed. "The scene was littered with unexploded improvised explosive devices," Davis said. "This was as dangerous as it gets in urban policing."
So far, all signs suggest the brothers acted alone. "All of the information I have is that they acted alone, these two individuals, the brothers," Boston Mayor Thomas Menino told ABC. Secretary of Defense Chuck Hagel told reporters that he hasn't seen any intelligence linking the brothers to any terrorist organization, although he emphasized it is still early in the investigation, reports CNN.
Advertisement

Massachusetts Gov. Deval Patrick told CBS News that while Boston may never "be quite the same" after the attack and "vigilance is still the order of the day" there's widespread agreement the immediate threat has passed. "There's still an ongoing investigation," Patrick said. "There are lots of questions about how and why and so forth and many, many leads still to be tracked down. But the immediate threat, I think all of law enforcement feels, is over, based on the information we have. And that is a good thing and you can feel the relief at home here."
TODAY IN SLATE
Politics
Smash and Grab
Will competitive Senate contests in Kansas and South Dakota lead to more late-breaking races in future elections?