Watch Boston Red Sox Pay Tribute to the Marathon Bombing Victims at Fenway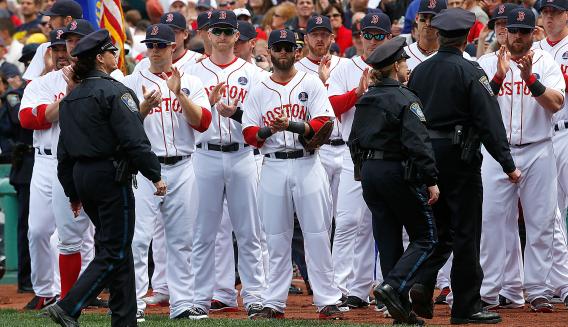 The Boston Red Sox and Kansas City Royals were supposed to face off in Fenway Park Friday. With the city on lockdwn and a manhunt under way, the game was obviously postponed. But with the second suspect caught Friday, "the iconic ballpark on Saturday became a place to start healing," points out USA Today. In an emotional pregame ceremony, fans were shown a video montage of the events of the last week and a moment of silence was held for those killed as their pictures were shown on a huge screen. The players also paid tribute to the first responders and several survivors. "For the national anthem, organ music began the song, but like at the Bruins' game on Wednesday and again Saturday, fans took over and finished it," notes the Boston Globe.
And then, to cap off the moving ceremony David Ortiz took the microphone. It marked the first time Ortiz was part of the lineup since Aug. 24 after a series of injuries, and he wasn't about to hold anything back. "Alright. Alright Boston," Ortiz said. "This jersey that we wear today, it doesn't say Red Sox. It says Boston. We want to thank you Mayor [Thomas] Menino, Gov. [Deval] Patrick, the whole police department for the great job they did this past week. This is our fucking city and nobody is going to dictate our freedom. Stay strong."
Advertisement

TODAY IN SLATE
Politics
The Irritating Confidante
John Dickerson on Ben Bradlee's fascinating relationship with John F. Kennedy.