The NRA's Newtown Task Force Isn't Here to Talk About Gun Control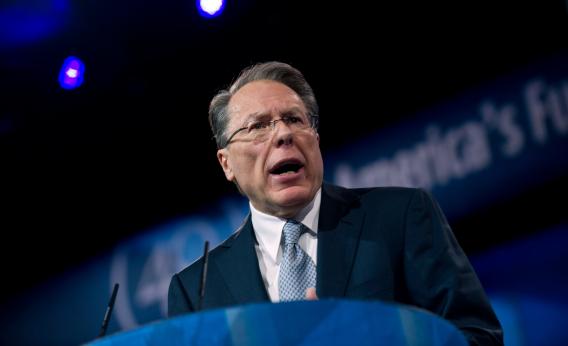 "In terms of volunteers, my impression of school superintendents is they would have great reluctance and so it's not the best solution," Hutchinson said. "That's why we have shifted to school staff, trained school staff, that's designated by the superintendent of the school board." He said that each armed staff member would need 40 to 60 hours of training that would cost $800 to $1,000 each.

Here's NBC News with a little more on what's in the 225-page report:

The report outlines a model training program for school resource officers and school personnel that, along with proposed changes to various state laws, would enable designated school personnel to carry firearms after having undergone training. Other proposals include development of better security plans, and greater coordination between schools and state and local governments to fund security programs and develop safety programs.
Today's press conference comes as the Senate slowly (but not necessarily surely) inches toward a deal on gun control/safey that now centers almost exclusively around expanding background checks for gun buyers, and not more sweeping proposals like a ban on assault weapons. Expanding background checks is widely supported by both the general public and gun owners—but not the NRA, which has remained vocal in its opposition to even the more scaled-down legislation.

When asked why the task force didn't weigh in on the larger gun control debate, Hutchinson—who received an A-rating from the gun lobby in 2010—made no effort to hide the fact that the shield program is an attempt to shrink the larger conversation to focus exclusively on school shootings specifically, and not gun violence in society at large. "We want the debate focused on school safety," Hutchinson said. "I have not focused on the separate debate in Congress on firearms and how they should be dealt with."

As an added wrinkle to the task force's report, Hutchinson repeatedly went out of his way to stress that his team worked independently of the NRA, and without the group's influence. USA Today notes, however, that the event was organized by the NRA's press office, paid for by the gun lobby, and the website hosting the project includes NRA in its URL (www.nraschoolshield.com). The Associated Press, meanwhile, pointed out that the NRA provided its own security guards for the event. Nevertheless, the gun lobby released a statement following the event saying that it "needed time to digest the report" before weighing in.