Key Lawmaker Says "Red Line Has Been Crossed" in Syria, Calls for More U.S. Involvement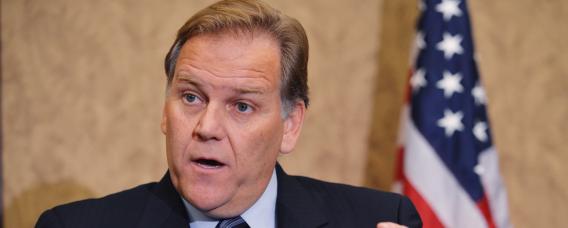 House Intelligence Committee Chairman Mike Rogers, a Republican from Michigan, continued on his path to push for greater United States involvement in Syria, telling CBS News there is increasing evidence the government has used "at least a small quantity" of chemical weapons in the ongoing civil war. Amid claims that chemical weapons were used during an attack in Syria last week, President Obama had said that, if true, it would signify a "game changer" but emphasized it's important to know for sure "whether or not this red line was crossed."
For Rogers, there isn't much of a debate. "I think that it is abundantly clear that that red line has been crossed," Rogers said, calling the conflict "a growing, destabilizing event in the Middle East."
Advertisement

This isn't the first time, Rogers has made the accusations. After he made similar statements last week, Robert Ford, U.S. envoy to Syria, said there was "no evidence" chemical weapons had been used, reports the Wall Street Journal. Regardless, Rogers says that the mere existence of a chemical weapons stockpile that could fall into terrorist hands justifies increasing U.S. involvement. The lawmaker says there is plenty the United States could do without getting sucked into a "big boots, on-the-ground conflict." Instead, the United States could train and equip rebels to become a more efficient force. (Watch the CBS interview after the jump.)
But any effort to provide more help for the Syrian opposition could very well be hampered by its lack of unity. The opposition "plunged into disarray" Sunday after its president resigned and the military leader refused to recognize a recently elected prime minister, reports the Associated Press. The resignation of Moaz Alkhatib could make the West "more cautious in supporting the revolt," notes Reuters, pointing out that he was largely seen as a moderate force to counter the rising influence of jihadist forces with ties to al-Qaida.
TODAY IN SLATE
Medical Examiner
Here's Where We Stand With Ebola
Even experienced international disaster responders are shocked at how bad it's gotten.