Kate Middleton Let It Slip She's Having a Girl! Well, Unless She Didn't.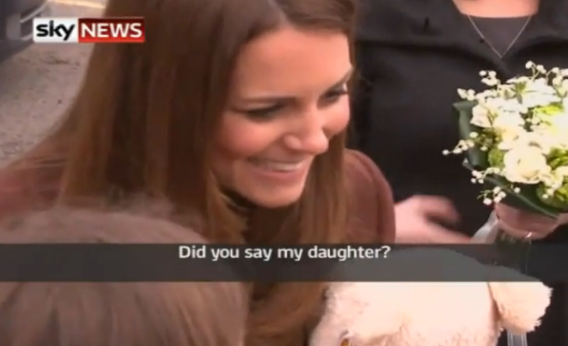 This is the video clip that has royal watchers in a tizzy that Kate Middleton accidentally let it slip that her unborn child is going to be a daughter. Everyone seems to be freaking out because Kate appeared to say "Ohhh, is this for my d--" upon being given a teddy bear by a well-wisher before catching herself. But I've watched the clip more than I care to admit and don't seem to be hearing what everyone else does—and certainly not the second half of the quote being offered by another well-wisher who maintains the exchange happened like this:

"As she handed it over I distinctly heard Kate say, 'Thank you, I will take that for my d... ' Then she stopped and corrected herself to say, '... for my baby'."
Middleton is due in July, so we'll just have to wait until then to know for sure. The child will be the third in line to the throne, regardless of its sex.
(Apologies for the somewhat scrunched size of the video, it's the only version of the raw footage that's available to embed. You can expand by clicking on the full-screen button in the bottom right-hand corner of the field.)